Home >
Dr. Ignacio Pascual Piédrola
meet

Dr. Ignacio Pascual Piédrola

Head of Urology Department
Urology Specialist
Area of Expertise: study and treatment of urological tumours
training and

Professional Career

Licenciado (1977) y Doctor (1986) en Medicina y Cirugía por la Universidad de Navarra. Médico especialista en Urología (1982). Completa su formación con un Fellow of European Board of Urology (1992).

Director del Departamento de Urología de la Clínica Universidad de Navarra.
Miembro del Consejo Editorial de Archivos Españoles de Urología.
Investigador principal en 8 proyectos obtenidos en convocatorias competitivas, incluyendo un proyecto FIS.
Investigador colaborador en 1 proyecto europeo (BMH4-97-2586) en colaboración con el Departamento de Plasticidad Neural del CSIC.
Investigador en 2 ensayos clínicos (1 Fase II, 1 Fase III) con moléculas para su aplicación clínica en patología urológica.
Miembro evaluador activo de la ANEP (cod.1059) desde 1999.
Revisor de 2 revistas de la especialidad (1 en el el Comité Editorial) y Revisor de abstracts de la European Association of Urology (desde 2012).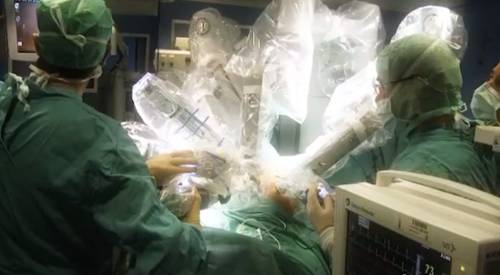 El cáncer de próstata es el tumor maligno más frecuente en el varón.
ACTIVITY
As an educator
Profesor Clínico Asociado de Urología. Universidad de Navarra, 1993-ACTUAL.
Profesor Asociado de Anatomía. Facultad de Medicina. Universidad de Navarra, 1996-1998.
Profesor Asociado de Urología. Facultad de Medicina. Universidad de Navarra, 2008-ACTUAL.
Profesor de Cápita Selecta en Alimentación y Salud (E-MENU), Máster Europeo en Alimentación, Nutrición y Metabolismo. Universidad de Navarra, 2013-2014.
As a researcher
Autor o coautor de 86 artículos publicados en revistas científicas recogidas en Medline, 65 de ellas corresponden a artículos originales.
Editor de 1 libro y primer autor de 10 capítulos de libros.
Autor de 293 comunicaciones a congresos, 32 de ellas internacionales.
93 ponencias invitadas a congresos y reuniones docentes dedicados a la formación de especialistas en urología y otras especialidades relacionadas con el tratamiento del cáncer y técnicas quirúrgicas mínimamente invasivas en urología.
Spanish Association of Urology
Spanish Neuroscience Society
European Association of Urology
International Neuro-Urology and Uro-Gynaecology Society
American Society for Neuroscience
American Urological Association
you may

BE INTERESTED

The Clínica is the spanish private hospital with the greatest technological equipment in one single center.

If you live outside of Spain and you wish to receive care at the Clínica, learn about our services for international patients.

Why we are different from other healthcare centers.
Quality, speed, comfort and results.