Home >
Dr. Carlos Panizo Santos
meet

Dr. Carlos Panizo Santos

Haematology and Haemotherapy Specialist
Area of expertise: Oncohematology
training and

Professional Career

Graduated in Medicine from the University of Navarra (1992), he carried out his doctoral thesis at the Clínica in March 1998 and specialised at the Clínica Universidad de Navarra until December 1997.

Since November 2007, he has worked as a consultant doctor in the Haematology and Haemotherapy Department at the Clínica, where beforehand, he worked as a collaborating doctor since 1998.

He is a collaborative investigator at the Oncology Division of the Centre for Applied Medical Research (CIMA) and an investigator for the Network of Cooperative Cancer Research, with special focus on Lymphoma treatment (RETICC) His main areas of research are the treatment of lymphomas, physiopathologies and immunes alterations associated with lymphoproliferative syndromes.
Diagnosis and treatment of lymphomas and chronic lymphoproliferative syndromes
Cytomorphological diagnosis of haemopathies
PET evaluation as an applied diagnosis and prognosis technique for lymphomas and chronic lymphoproliferative syndromes
New treatments and therapeutic approaches for lymphomas: anti-idiotype vaccination, treatment with new monoclonal antibodies and new drugs
Clinical trials for lymphoma treatment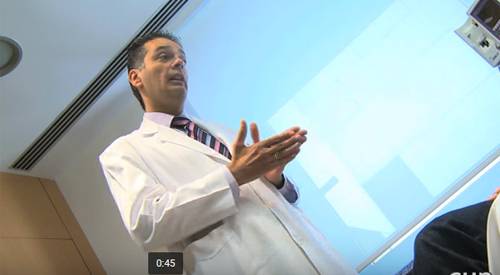 El Dr. Panizo explica cómo la inmunoterapia actúa frente al linfoma
ACTIVITY
As an educator
Associated Professor of Haematology at the University of Navarra Faculty of Medicine since September 2000
Recognised by the ANECA as an associated professor in September 2009.
As a researcher
He has written 25 book chapters and more than 50 articles in national and international magazines.
National Committee of Cooperative Work Group GELTAMO
European Society of Haematology
Spanish Society of Haematology and Haemotherapy
Editorial Committee for International Scholarly Research Network Haematology magazine
you may

BE INTERESTED

The Clínica is the spanish private hospital with the greatest technological equipment in one single center.

If you live outside of Spain and you wish to receive care at the Clínica, learn about our services for international patients.

Why we are different from other healthcare centers.
Quality, speed, comfort and results.