Home >
Radioembolisation with micro spheres. More information
Radioembolisation

with micro spheres
learn more about

radioembolisation
Hepatocarcinoma is the most common primary tumour in the liver. It's the fifth leading cause of death for cancer in the world and is very frequent in Spain: between 5,000 and 8,000 patients contract it every year. The Clínica Universidad de Navarra has more than 25 years' experience in the treatment of this tumour and we are leaders in investigation in this area.
Nowadays, we have a wide variety of treatments: hepatic transplant, liver resection surgery, chemoembolization, radioembolisation or more simple techniques, like radiofrequency ablation. In the past two or three years we have also had drugs available which are capable of acting systematically against specific stages of the disease.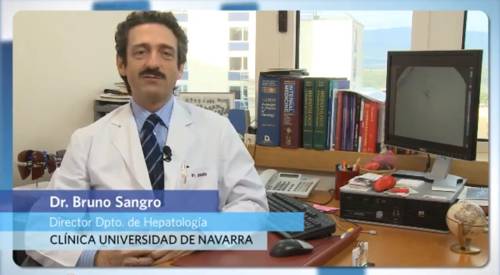 Know in what radioembolisation consists. [Video only available in Spanish]
Sometimes, a small number of micro spheres can go to other parts of the body like the gallbladder, stomach or lung. If this occurs, it can cause an inflammation in these areas and it would be necessary to administer additional treatment.
Although this complication is rare (occurring in only 5% of cases), certain patients' liver can be especially sensitive to the effect of the radiation and may develop hepatitis or jaundice.

Radioemolisation can be an alternative for patients that are unable to have chemoembolization or both can be used, and in certain situations, this can be more effective".
you may

BE INTERESTED

Learn why the Clínica Universidad de Navarra is different from other hospitals.

Want to participate in our clinical trials? Learn which ones are active.

Know what we do for our international patients