Hip prosthesis
"The placement of a hip prosthesis is an important intervention, but nowadays it is done routinely and with great guarantee in terms of results".
DR. JOSÉ MARÍA LAMO DE ESPINOSA VÁZQUEZ DE SOLA SPECIALIST. ORTHOPEDIC SURGERY AND TRAUMATOLOGY DEPARTMENT
In more than 80% of the cases of hip arthrosis it is necessary to resort to total joint replacement.
The treatment of the hip prosthesis, when there is a problem in this joint, requires a great experience in terms of diagnosis and its implementation.
The need to replace the hip prosthesis about 10 or 15 years after its placement is its main problem. When changing it, you have to put a larger one and, in each replacement, there is less bone surface suitable for anchoring the prosthesis.
This is aggravated in patients under 65, who may need at least two other replacements of this joint during their lifetime.
When is a hip prosthesis indicated?
The treatment by means of the intervention of the hip prosthesis is indicated in those patients who suffer a very advanced arthritis, in which a very important limitation exists to walk or to make its daily activities.
The intervention consists of replacing the damaged joint with a hip prosthesis.
After a rehabilitation program after the intervention, the patients recover and notice the disappearance of the symptoms, being able to walk and to make a practically normal life.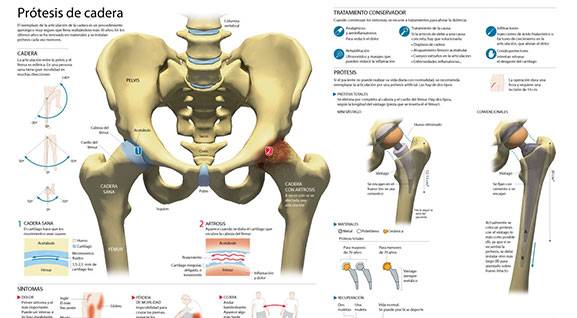 Learn about hip replacement treatment (only in spanish).
Most frequent indications for this treatment:
Do you have very advanced osteoarthritis of the hip?
You may need to have a hip replacement
¿Cómo se realiza la operación de prótesis de cadera?
Replacing a hip with an artificial joint requires major surgery and spinal or general anesthesia.
Through an incision of about 10 cm. on the side or back of the hip, the damaged head of the femur is removed and replaced by a prosthesis of artificial materials.
A plastic, metal or ceramic dome is then implanted in the spherical cavity of the damaged pelvis. Then, a metal or ceramic ball is placed at the proximal end of the femur and attached to a stem that is inserted into the bone.
The materials used allow a mobility similar to the previous of the joint. They are manufactured with metals - stainless steel, cobalt alloys, chrome and titanium - and plastic, usually polyethylene, which is very durable and resistant to friction wear.
Traditionally the cement fixes the prosthetic components to the bone. Today, more non-cemented implants are used, which are fitted directly into the bone.
This technique requires great precision in their placement and is especially useful in young patients.
The results are very satisfactory.
After a post-operative rehabilitation program, patients recover and notice the disappearance of symptoms, being able to walk and lead a practically normal life.
Minimally invasive surgery for hip prosthesis
Minimally invasive anterior hip replacement surgery is a major advance in the treatment of patients with hip arthrosis.
It allows a much faster recovery than the conventional procedure, while minimizing pain, incision size and hospital stay.
Where do we do it?
IN NAVARRA AND MADRID
The Department of Orthopedic Surgery and Traumatology
of the Clínica Universidad de Navarra
The Department of Orthopedic Surgery and Traumatology covers the full spectrum of congenital or acquired conditions of the musculoskeletal system including trauma and its aftermath.
Since 1986, the Clinica Universidad de Navarra has had an excellent bank of osteotendinous tissue for bone grafting and offers the best therapeutic alternatives.
Organized in care units
Hip and knee.

Spine.

Upper extremity.

Pediatric orthopedics.

Ankle and foot.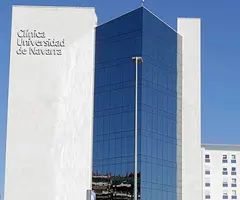 Why at the Clinica?
Experts in arthroscopic surgery.
Highly qualified professionals who perform pioneering techniques to solve traumatological injuries.
One of the centers with the most experience in bone tumors.
Our team of professionals
Traumatology specialists with experience in hip prosthesis