Dermosatic solutions
"Performing these treatments in a hospital center offers greater patient safety from any possible complications".
DR. LEYRE AGUADO GIL SPECIALIST. DERMATOLOGY DEPARTMENT
Photodynamic therapy, dermatologic laser and hair removal
Many factors affect the skin: tobacco, stress, poor diet and especially solar radiation, which most accelerates the natural aging.
Before deciding on a treatment, it is essential to be checked by a dermatologist to rule out problems beyond cosmetics (such as skin cancer or melanomas). Once they have been ruled out, they will advise us on the best method or treatment.
The Dermatology Department at the Clinic has extensive experience in skin treatment and the most advanced technology.
There are currently a great number of treatments to solve skin problems, most of them fast and effective, without hospitalizing the patient.
Most frequent indications of these treatments:
Scars.

Excess body hair.

Vascular lesions.

Skin stains and lesions.

Tattoos and pigmented lesions.
Do you have any of these problems?
A dermo-aesthetic treatment may be necessary
Types of treatments
Photodynamic therapy, dermatological lasers and laser hair removal
One of the main manifestations of photo-aging is the development of actinic keratomas (red, scratchy lesions that, in addition to being pre-cancerous, give an unsightly appearance to the skin, showing it to be older) and skin cancer.
Photodynamic Therapy (PDT) applies a methyl-aminolevulinate cream (photosensitizing agent) to the lesion. Then the area is covered with an occlusive dressing that is removed in 3 hours. Then it is illuminated with a special lamp that activates the intracellular porphyrins, stimulating the release of a series of free radicals and initiating the destruction of the lesion.
Its great advantages are its specificity, its selectivity (since it does not damage healthy tissue), its safety and its few side effects. After 3 months the skin is, in general, completely normal.
Its application can improve the results of other techniques, such as surgery, since when it is applied, it delimits the affected area better and makes the intervention easier. In addition, it can serve as a guide as a method of detecting lesions by means of fluorescence, delimiting the lesion and determining its scope.
In the Clinic we eliminate vascular lesions such as couperose, dilated veins, ruby spots, spider veins, hemangiomas, port wine stains, etc.
Current laser treatments allow not only the elimination of pigmented lesions resulting from photo-aging, but also vascular lesions.
There are different vascular lesions, some associated with age, such as ruby points, spider veins, etc., and others that can appear at any age. The Clinic has two lasers to treat this type of lesions:
PDL (Pulsed Dye Laser): for more superficial lesions such as couperose, port wine stains or hemangiomas.
Long pulse Neodymium-Yag laser: penetrates deeper, to treat ruby points, variculas, venous lakes (purple lumps on the lips), etc.
The treatment with these lasers is very fast and effective, and without anesthesia in adults (in case of children it is done with sedation).
Once performed, the laser leaves a bruise for 10 days, so it is recommended to perform it outside the summer season.
UV radiation causes cumulative damage to cellular DNA which, together with the reduced ability of cells to repair this damage with age, is responsible for the progressive deterioration of the functions of these cells. This can lead to alterations in pigmentation: spots, lentigines, etc.
The University of Navarra Clinic has a Neodymium-Yag Q-Switched Laser for the elimination of this type of stains.
The treatment with this laser is very simple, fast and does not require anesthesia. The sessions last 15 minutes and although normally 1 or 2 sessions are sufficient to eliminate the lesion, its application can be repeated as many times as necessary, since it is very tolerable.
Laser hair removal heats the hair matrix (responsible for hair production) by inactivating the follicle in the production of hair.
Large amounts of energy are applied in very short periods, without causing excessive heating that diffuses heat to nearby areas and causes injury.
The number of sessions depends on the area treated, the density of the hair and the cycle of the hair itself. Four to six sessions are usually needed to obtain maximum results.
The Clinic's dermatologists perform a thorough evaluation of the patient prior to laser hair removal.
The Clinic's Dermatology Department has a Candela Ibérica GentleLASE laser, which is a long pulse Alexandrite laser, as well as a Neodymium Yag laser of the Cynosure brand.
These types of lasers allow the treatment of light and dark phototypes, and are characterized by being fast and effective systems.
Where do we perform them?
IN NAVARRA AND MADRID
The Department of Dermatology
of the Clínica Universidad de Navarra
The Department of Dermatology of the Clinica Universidad de Navarra has extensive experience in the diagnosis and treatment of dermatological diseases.
We have extensive experience in highly precise surgical treatments, such as Mohs surgery. This procedure requires highly specialized personnel.
We have the latest technology for the dermo-aesthetic treatment of skin lesions, with the aim of achieving the best results for our patients.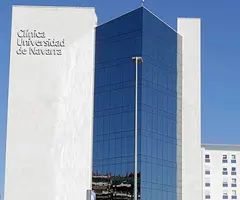 Why at the Clinica?
Experts in Mohs Surgery for the treatment of skin cancer.
We have the best technology for dermo-aesthetic treatments.
Safety and quality assurance of the best private hospital in Spain.
Our team of professionals
Dermatology specialists with experience in performing dermo-aesthetic treatments