Arthroscopy
" At the Clinica we have been using arthroscopy for more than 30 years and we have been updating the different procedures for other joints, using the techniques currently available".
DR. ANDRÉS VALENTÍ AZCÁRATE SPECIALIST. ORTHOPEDIC SURGERY AND TRAUMATOLOGY DEPARTMENT
What is arthroscopy?
Arthroscopy is a surgical technique that allows us to directly observe the inside of the joints and treat the various injuries without having to open the joint being evaluated.
It is, therefore, a minimally invasive surgical technique that allows for a faster recovery of the patient and a decrease in the type and frequency of complications that may occur.
One of the advantages of this technique is that it requires hardly any hospital admission, is less aggressive for the patient (and therefore less painful) and has fewer complications in expert hands.
In addition, it reduces the risk of infection to 50% compared to traditional surgery.
When is arthroscopy indicated?
Cada vez es mayor el número de intervenciones que pueden realizarse mediante la artroscopia, con grandes ventajas sobre la cirugía clásica (abierta).
En los últimos años, se están desarrollando también técnicas de endoscopia que nos permiten realizar intervenciones quirúrgicas en zonas del cuerpo distintas de las articulaciones.
Las ventajas de la técnica endoscópica sobre la cirugía clásica son la más rápida recuperación del paciente y las menores molestias postoperatorias, ya que se trata de una operación menos invasiva.
Para lograr la recuperación completa de la articulación tras la realización de una artroscopia, conviene que el paciente realice ejercicios de rehabilitación que le ayudarán a la cicatrización de los tejidos y a una recuperación completa.

Most frequent indications of this treatment:
Ligament injuries.

Lesions of the articular cartilage.

Chronic synovitis.

Stiffness of the joint.

Fractures.

Bursitis.

Intra-articular free bodies.
Do you have any of these diseases?
You may need to have an arthroscopy
How is arthroscopy performed?
To perform this technique, the arthroscopist uses specially designed video cameras and small lenses (1.9 mm to 4 mm), and small-caliber instruments that can be inserted into the joints without damaging them (forceps, scissors, etc.).
Depending on the joint, it can be performed under regional, general or local anesthesia, depending on the patient's preferences, general condition and the orientation given by the anesthesiologist.
The patient will be discharged the day of the operation or the next day. In the following days, he will have to wear a compressive bandage.
You will have to perform the recommended exercises with the objective of gradually regaining mobility, reducing pain and inflammation.
Strengthening
In the second phase, the exercises seek to fortaceler the knee and complete mobility, free of pain. Muscle strength and stability will be recovered.
Advanced strengthening
The patient continues with the exercises. The degree of mobility is maintained and muscle strength is increased. They must be done daily during the first 15 weeks.
After 16 weeks, approximately 4 months, the patient can return to normal activity. You will be able to do sports with a change of direction after 6 months.
These are the same risks as in open surgery, but with a lower incidence, because the surgical aggression is much lower.
Depending on the type of arthroscopic surgery and the characteristics of each patient, prophylactic guidelines are used to avoid infections and thrombophlebitis.
In general, the risks and complications are directly related to some factors such as
Age.

General condition of the patient.

Type of arthroscopy performed.

Experience of the surgeon who performs it.
Where do we do it?
IN NAVARRE AND MADRID
The Department of Orthopedic Surgery and Traumatology
of the Clínica Universidad de Navarra
The Department of Orthopedic Surgery and Traumatology covers the full spectrum of congenital or acquired conditions of the musculoskeletal system including trauma and its aftermath.
Since 1986, the Clinica Universidad de Navarra has had an excellent bank of osteotendinous tissue for bone grafting and offers the best therapeutic alternatives.
Organized in care units
Hip and knee.

Spine.

Upper extremity.

Pediatric orthopedics.

Ankle and foot.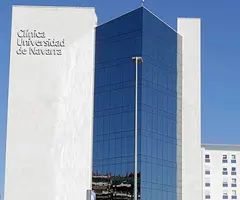 Why at the Clinica?
Experts in arthroscopic surgery.
Highly qualified professionals who perform pioneering techniques to solve traumatological injuries.
One of the centers with the most experience in bone tumors.
Our team of professionals
Traumatology specialists with experience in performing arthroscopies