Craniopharyngioma
"The treatment approach for patients with a craniopharyngioma must be carried out by a team of different specialties in order to offer the patient the best alternative that achieves complete removal of the tumor without neurological damage".
DR. BARTOLOMÉ BEJARANO
DIRECTOR. NEUROSURGERY DEPARTMENT
Craniopharyngiomas are congenital tumors that originate from embryonic remains that connect the brain to the pharynx (remains of the Rathke's bag) and usually appear just above the pituitary gland.
In general, the prognosis for patients with craniopharyngioma is good, with the possibility of complete cure in 80-90% of cases, if the tumor can be completely removed with surgery or treated with high doses of radiotherapy.
The criteria of good prognosis for radical surgery are: age under 5 years, small tumors without hypothalamic symptoms, pure intraselar or intraventricular location, the experience of the surgeon.

Do you need a remote second opinion?
Our professionals will provide you with a medical evaluation without you having to leave your home.
What are the symptoms of craniopharyngiomas?
The clinical symptoms are secondary to the injury of nearby structures: third ventricle (hydrocephalus), chiasm and optical tracts (visual impairment), hypothalamus (diabetes insipidus).
They can cause galactorrhea, by default in the hypothalamic inhibition of prolactin secretion, and growth retardation, by growth hormone deficit.
The most common symptoms are:
Visual impairment.

Diabetes insipidus.

Delayed growth.
Do you have any of these symptoms?
You may have a craniopharyngioma
How is craniopharyngioma diagnosed?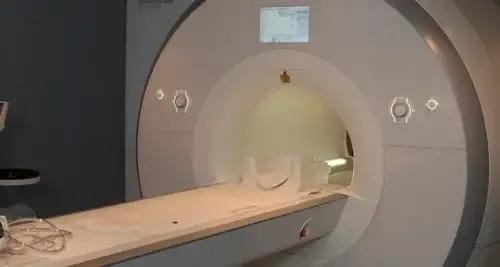 The diagnosis of craniopharyngiomas is carried out by means of neurological exploration and a cerebral magnetic resonance.
The lesions are usually lobulated, compressing the III ventricle, and of mixed solid-cystic characteristics, with contrast capture in the solid portion.
How are craniopharyngiomas treated?
These are symptomatic benign (expanding) tumors and metastasis is rare.
Although the complete removal of these tumors is curative, it is often impossible to perform a total resection without neurological deficits, so it is often necessary to design a therapeutic strategy combining microsurgery, stereotactic puncture of the cysts by injecting substances that obliterate the cysts, radiosurgery and, in selected cases, conventional radiotherapy.
Where do we treat it?
IN NAVARRE AND MADRID
The Brain Tumor Area
of the Clínica Universidad de Navarra
In the Brain Tumor Area we offer maximum safety and efficiency in brain tumor surgery, being the first hospital with a high field magnetic resonance within the operating room.
We have a highly specialized team in the surgery of brain tumors, with more than 15 years of experience.
The individualized treatment of each case by an interdisciplinary team allows us to offer the best alternative to each patient.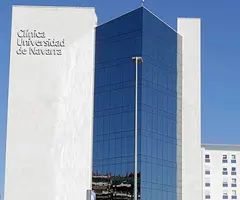 Why at the Clinica?
Integral evaluation of the patient.
Cutting edge technology.
Expert professionals who are a national reference.
Our team of professionals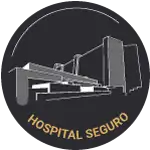 Safer than ever to continue taking care of you
We update safety protocols weekly with the latest scientific evidence and the knowledge of the best international centers with which we collaborate.