radiology

NEURONAVIGATOR

The neuronavigator is a next-generation neurology tool that enables the operator to precisely determine the location, form and volume of the disease requiring treatment, without affecting the patient's capabilities.

This new equipment provides three-dimensional images, reconstructed based on images collected in real-time from CAT or magnetic resonance imaging.

The main advantage of this leading edge tool is its ability to provide an accurate view of the affected area and thereby assist in planning the complete operation before opening the skin.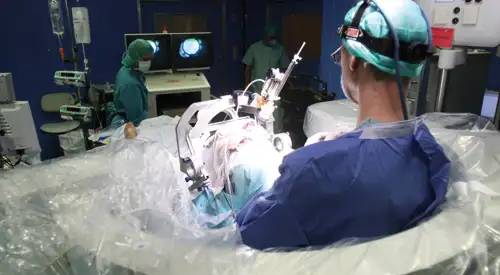 Use of the neuronavigator during an operation of the department of neurosurgery
another technology

THAT HAS THE CLÍNICA
you may

BE INTERESTED

Why are we different from other healthcare facilities.
Quality, speed, comfort and results.

Clinical professionals perform a continuing research and training, always to the benefit of the patient.

Researched to offer new possibilities and the latest therapeutic advances
for our patients.