cardiology

HAEMODYNAMICS ROOM

The digital haemodynamics room of the Department of Cardiology has the most advanced technology for the diagnosis and treatment of coronary artery diseases.

This includes virtual histology, which offers differentiated and percentage information on the four components of atheromatous plaques: fibrotic content, lipid content, calcium content and necrotic core content.

It also includes intracoronary ultrasound, which consists of a 1-mm catheter that incorporates a miniature ultrasonic emitter (transducer) at the distal end connected to a real-time image generator console.

With optical coherence tomography (OCT), high-resolution images of the interior of the coronary artery are created using a near-infrared laser light source.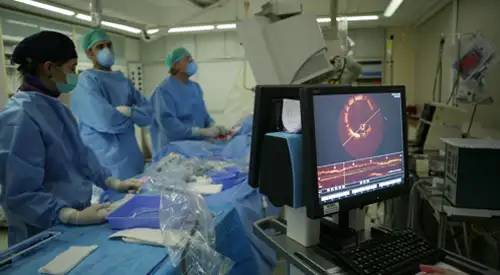 The haemodynamics room of the Department of Cardiology
another technology

THAT HAS THE CLÍNICA
you may

BE INTERESTED

Why are we different from other healthcare facilities.
Quality, speed, comfort and results.

Clinical professionals perform a continuing research and training, always to the benefit of the patient.

Researched to offer new possibilities and the latest therapeutic advances
for our patients.