breast disease

DIGITAL MAMMOGRAPHY

Since January 2009, the facilities of the Breast Disease area have been equipped with a next-generation digital mammography, which enables the Clinic to perform all necessary tests and reach a diagnosis in less than a week.

The direct digital mammography is performed in the same manner as the conventional system but uses a selenium detector placed just below the breast that receives the penetrating radiation.

This results in very high quality and high-resolution images, thereby reducing the radiation dosage that the patient receives.

Patients who carry breast implants also benefit from this technology. Similarly, examinations of women younger than 50 with dense breasts achieve an improved detection of breast cancer compared with the analogue technology.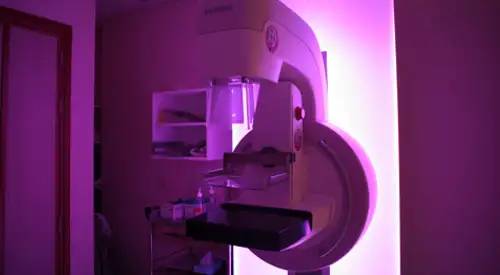 another technology

THAT HAS THE CLÍNICA
you may

BE INTERESTED

Why are we different from other healthcare facilities.
Quality, speed, comfort and results.

Clinical professionals perform a continuing research and training, always to the benefit of the patient.

Researched to offer new possibilities and the latest therapeutic advances
for our patients.