obesity unit

Bod-Pod

The Bod Pod system measures body fat and lean mass through air displacement.

This is an accurate, fast and easy-to-manage method for analysing body composition. The system uses a fibreglass capsule in which the patient remains seated while the apparatus measures the quantity of fat according to air pressure changes in the closed chamber.

The test lasts approximately 15 minutes, during which the patient remains seated breathing through a small tube at a rate indicated by a nurse who follows the directions on a computer.

This test has considerable diagnostic value, because the concept of obesity does not refer to excess weight but rather to excess fat.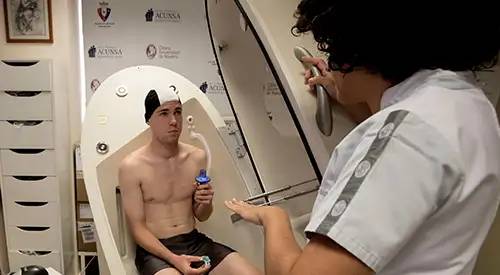 Carrying out the Bod-Pod test
another technology

that has the Clínica
you may

BE INTERESTED

Why are we different from other healthcare facilities.
Quality, speed, comfort and results.

Clinical professionals perform a continuing research and training, always to the benefit of the patient.

Researched to offer new possibilities and the latest therapeutic advances
for our patients.