Vascular Surgery
"We offer advanced, minimally invasive treatments, using the latest technology available for treating vascular diseases and techniques such as angioplasty, stents and endoprosthetics".
DR. JOSÉ IGNACIO LEAL PERSON IN CHARGE. VASCULAR SURGERY SERVICE

The Vascular Surgery Service is in charge of the comprehensive management of diseases that affect the entire circulatory system of the body (arteries, veins and lymphatic vessels), including chronic venous insufficiency (varicose veins), peripheral arterial disease ("shop window syndrome"), aortic aneurysms and atherosclerotic carotid disease (related to stroke).
It relies on a team of surgeons and nursing professionals specialised in the diagnosis and treatment of all vascular pathologies. Being equipped with the latest diagnostic and therapeutic technology, it allows for effective and rapid solutions for the patient.
In addition, the Clinic boasts an Area of Phlebology which is a pioneer in Spain in the treatment of varicose veins in the extremities by means of the phleboesclerosis technique with microfoam and other innovative techniques.

Do you need a remote second opinion?
Our professionals will provide you with a medical evaluation without you having to leave your home.
Comprehensive patient care
IN NAVARRE AND MADRID

DISEASES
Aneurysmal disease

Atherosclerotic carotid disease

Vascular malformations

Peripheral arterial pathology

Lymphatic pathology

Venous Pathology

DIAGNOSIS PROCEDURES
Angiography

Angioresonance (AngioRMN)

AngioTC

Ecodoppler

Intravascular ultrasound (IVU)

Optical coherence tomography (OCT) TREATMENTS
Vascular access in dialysis

Angioplasties and stents

Brachytherapy

Endoprosthesis

Diabetic foot unit

Ulcers and chronic wounds unit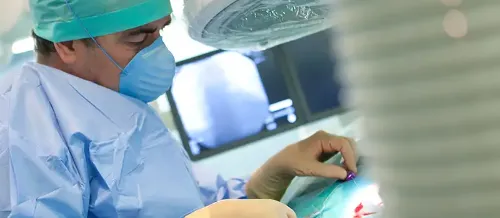 Transcaroteal revascularisation
Recognised as a 'Centre of Excellence' in the performance of transcarotidal revascularisation, the Clinic is committed to this minimally invasive procedure, which is performed under local anaesthetic in order to treat the stenosis of the carotid arteries (the main vessels that nourish the brain).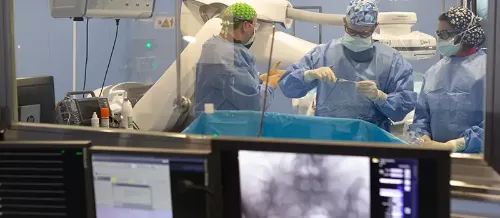 Pelvic Varicose Veins
We opt for an outpatient treatment, which lasts one hour, to cure pelvic varicose veins, common in women who have been mothers. Through a puncture in the arm, the patient can leave the hospital that same day with only a small plaster.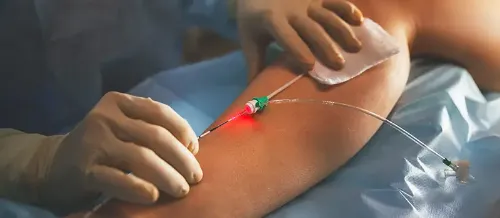 Varicose veins are not only an aesthetic problem but also a sign of chronic vascular injury, which is why we take a comprehensive and individualised approach that allows us to carry out a treatment that last for an hour, avoiding hospitalisation and allowing the patient to return to the routine immediately.
Hybrid operating rooms
The new operating rooms installed at the Clínica Universidad de Navarra allow for greater intraoperative precision in the surgeries performed on patients, since high quality images can be obtained at the same time as they are being performed, allowing surgeons to check the effectiveness of the operation even before it is completed.
PERSONALISED TREATMENT
Comprehensive assistance for our patients
Extensive experience in vascular procedures, framed within the quality care environment of the Clínica Universidad de Navarra, which allows us to offer the patient the most effective and innovative treatments.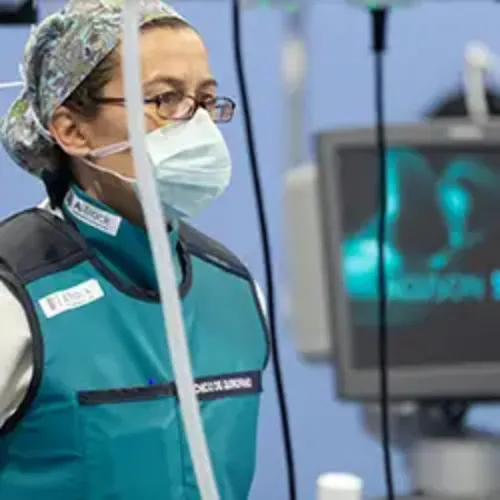 Specialised
nursing
Our nursing team specializes in the management and follow-up of patients with vascular problems.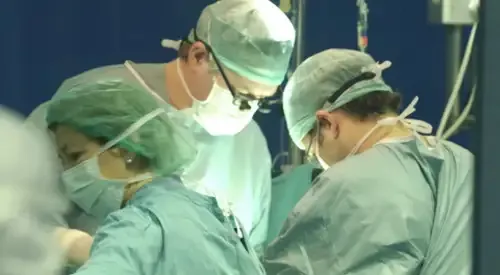 Minimally invasive surgery
In most of the surgeries we perform, we apply minimally invasive techniques, which allow for a better recovery of the patients.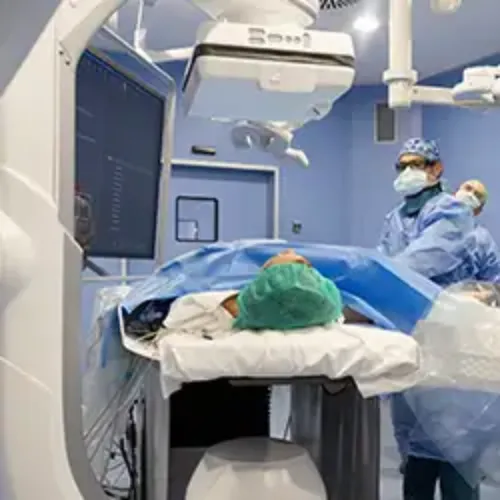 Cutting-edge technology
Our operating rooms are equipped with the most advanced equipment for carrying out surgical treatment of the most important vascular diseases.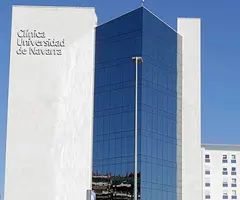 Why choose the Clinic?
Cutting-edge therapeutic technology.
International reference professionals.
Safe and minimally invasive surgeries to ensure the rapid recovery of our patients.
Our team of professionals