Tonsillectomy
"Surgery is indicated when episodes of tonsillitis are so frequent or severe that they affect the child's general health".
DR. FRANCISCO JAVIER CERVERA PAZ SPECIALIST. OTORHINOLARYNGOLOGY DEPARTMENT
What is tonsillectomy?
Tonsillectomy is a very common operation in Otolaryngology. The aim of this surgery is the removal of the palatine tonsils (the angina, in colloquial language).
They usually appear in children, although there are also cases in adults. The problems that can generate tonsils and vegetations are usually detected by pediatricians, who usually refer children to otolaryngologists.
Often, in the same intervention to remove the tonsils, the adenoid tissue or vegetations are resected, since children usually have problems in both areas.
When are the tonsils removed?
Tonsil removal or tonsillectomy is advisable when episodes of tonsillitis are so frequent or severe that they affect the child's overall health, or interfere with his or her daily activities. For example, some children have repeated seizures and fever or peritonsillar abscesses.
At other times, the tonsils are so large that they make breathing or swallowing very difficult, causing growth or sleep problems.
Most frequent indication of this treatment:
Do you have recurrent tonsillitis?
You may need to have a tonsillectomy
The surgical technique used to remove the tonsils is performed through the mouth, almost always under general anesthesia.
Generally, tonsillectomy is a short hospital stay surgery, so most of the time it requires one day of admission. Recovery from the operation, once at home, takes about 10 days.
During the days following the tonsil operation, the patient can be expected to feel pain in the throat and also in the ears. This discomfort is usually solved with analgesics and anti-inflammatory drugs.
According to different studies, children who have their tonsils or adenoids removed do not suffer losses in resistance to infection, because other lymphatic tissues in the body replace the function of the removed ones.
Where do we do it?
IN NAVARRE AND MADRID
The Department of Otolaryngology
of the Clínica Universidad de Navarra
The Department of Otorhinolaryngology of the University of Navarra Clinic is a national and world reference in numerous highly specialized surgical procedures.
We have the latest technology and we perform all diagnostic tests in less than 48 hours in order to offer our patients the best solution in the shortest time possible.
We were one of the first centers in Spain to use robotic surgery in the surgical treatment with the Da Vinci® System.
Organized in specialized units:
Otology - Hearing.

Rhinology - Nose.

Pharyngology - Throat.

Laryngology - Voice.

Balance disorders.

Head and neck problems.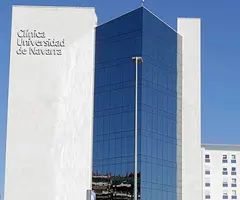 Why at the Clinica?
Experts in the treatment of hearing problems.
Pioneers in axillary surgery to avoid scarring.
National reference center in tissue sealing for tonsil removal.
Our team of professionals
Otolaryngology specialists with experience in performing tonsillectomies