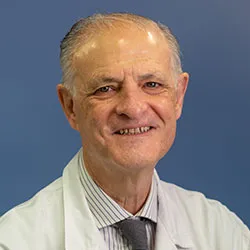 Dr. Manuel Manrique Rodríguez
Head of Otorhinolaryngology Department
Otorhinolaryngology Specialist
Area of Expertise: hearing loss and hearing implants
Works at:
Navarre headquarters
Be part of:
Clínica Universidad de Navarra
Professional career
Graduate (1980) and Doctor in Medicine and Surgery (1989) from the University of Navarra. He specialised in Otorhinolaryngology at the Clínica Universidad de Navarra, completing his training with a residency in Otology and Otoneurology in the House Ear Institute (Los Angeles).
Honorary Doctorate awarded by the University of San Pablo de Tucumán, Argentina (March 2014).
Director of the Department of Otolaryngology at the Clínica Universidad de Navarra since 2015.
Director of the Cochlear Implant Programme at the University of Navarra.
RESEARCH AREAS
Lines of Investigation:
Cochlear implants, bone conduction implants, middle ear active implants brainstem implants for auditory channel stimulation
Telemedicine and hearing
Robotics in ear surgery and its application in minimally traumatic ear surgery.
Editorial Boards:
Member of Editorial Board of "Cochlear Implants International and Interdisciplinary journal", "Spanish Otorhinolaryngological Act", "The Mediterranean Journal of Otology and Audiology" (MJO), "Otology & Neurotology" and "International Archives of Otorhinolaryngology"
Projects:
Research Projects. Public and Competitive Calls. Principal Investigator: 6
Research Projects. Special relevance in companies or public administration. Principal Investigator: 21
Research Projects. Public and Competitive Calls. Research Member: 2
Research Projects. Special Relevance in companies or public administration. Research Member: 15
Patents:
Inventors: Manuel Manrique, Javier Gracia Gaudó. Name: electrode guide for cochlear implant fitting using said guide and manufacturing process
Inventors: Joan Savall, Manuel Manrique. Name: Support for steadying a surgical tool
Inventors: Angel Ramos de Miguel, Mª Teresa Pérez Zaballos, Ángel Ramos Macías, Juan Carlos Falcón González, Silivia A. Borkoski Barreiro, Manuel Manrique Rodriguez, Nicolás Pérez Fernández, Erwin Offeciers, Andrej Kral, Jesús Benitez del Rosario, Andrzej Zarowski, Daniel Pérez Plasencia, Ángel Osorio Acosta, Gloria Guera Jiménez. Name: Device, procedure and computer programme for generating one or more saculo utricular electrical stimulation signals from a patient.
AREAS OF INTEREST
Study of diagnosis and treatment of auditory diseases.
Activity
As an educator
Accredited by the ANECA as a professor at the Private University.
Accredited by the ANECA as associated professor.
Titular Professor at the University, for Otorhinolaryngology. University Coordination Council, Secretary of State for Universities and Investigation, Ministry of Education, Culture and Sport.
Associate Professor of Otorhinolaryngology at the University of Navarra Faculty of Medicine.
Otorhinolaryngology Course Director at the University of Navarra Faculty of Medicine.
Academic Guidance at the University of Navarra Faculty of Medicine.
As a researcher
He has participated as a speaker in more than 261 scientific communications to national and international congresses.
He has published more than 123 articles in national and international journals. He has also published 11 monographs, 54 book chapters and 8 books: Manual for Rehabilitation of Cochlear Implants, Guide for the Dissection of the Temporal Bone, Cochlear Implants, Implantable Prosthesis in Otosurgery, Multilingual Dictionary of Otology and Cochlear Implants, Study Guide for Educational Staff Working with Hearing Impaired Children, Legal Aspects of Medical Act in Otorhinolaryngology and Facial Cervical Pathologies.

Recognition
Scientific Coordinator of the Center for Biomedical Engineering of the Universidad de Navarra
Scientific organizations
Member of the Collegium oto-Rhino-Laryngologicum Amicitiae Sacrum (CORLAS).
Member of the Spanish Society of Otolaryngology and Cervico-Facial Pathology since 1986.
Founding member of the Spanish-German Society of Otorhinolaryngology and Cervico-Facial Surgery, 1994.
Member of the Spanish Commission for Early Detection of Hearing Loss (CODEPEH) from 1995 to 2002.
Member of the Navarra Association of Otorhinolaryngology from its foundation to the present.
Associate Member of the Interamerican Association of Pediatric Otorhinolaryngology, 2007.
Corresponding Member of the German Society of Otorhinolaryngology, May 2009.
Honorary Member of the Cuban Society of Otorhinolaryngology and Head and Neck Surgery, October 2009.
Latest scientific publications