Phleboesclerosis with microfoam
"Phleboesclerosis with microfoam is the most effective and innovative treatment for varicose veins and chronic ulcers of the lower extremities. It makes it possible to treat any type of varicose veins, causes hardly any discomfort and does not require hospitalization".
DR. ALEJANDRO SIERRA MARTÍNEZ PERSON IN CHARGE. PHLEBOLOGY AREA
Sclerotherapy with microfoam is the most effective and innovative treatment for varicose veins and chronic ulcers of the lower extremities.
The treatment with microfoam consists of injecting a substance (polidocanol) in the sick vein in the pharmaceutical form of microfoam, which displaces the blood and allows selective treatment of the internal wall of the varicose vein, transforming it in a few months into a scar tissue through which blood does not circulate.
With very low concentration of polidocanol effective results are achieved even in large varicose veins.
It allows the elimination of any varicose vein, regardless of size, location or morphology, including large caliber.
When is microfoam indicated for varicose veins?
Chronic venous insufficiency is the clinical picture caused by the difficulty of venous return from the lower extremities.
The World Health Organization defines varicose veins as "dilations of the veins that are often tortuous.
Most frequent indications:
Do you have a varicose vein problem?
You may be able to benefit from phleboesclerosis with microfoam
How is phleboesclerosis performed with microfoam?
It is a technique that barely causes the patient any discomfort and achieves excellent results in a few treatment sessions.
In addition, it does not require hospitalization or anesthesia, so it can be used in older patients, who cannot be operated on. It is not necessary to rest or take time off work.
It can be applied to patients with venous ulcers and to patients with infiltrating venous vascular malformations that until now had no solution.
It is punctured.

The sick vein is located by means of ecodoppler.

A catheter is introduced into the vein through which the microfoam is injected.

By means of an ecodoppler the situation is controlled at all times and it is known where the foam is.

Once the procedure is finished, a bandage and an elastic stocking are placed on the patient.

The patient returns home without problems, on his own feet.

Afterwards, the patient must go to regular consultations to be examined clinically and ultrasonographically.
It does not require hospitalization or anesthesia.

It does not require rest or sick leave.

It hardly produces any discomfort.

It allows for the treatment of large veins thanks to the use of a small amount of sclerosing agent and a very low concentration.

Sometimes a single puncture is enough to destroy the venous bed that causes the disease.

In the case of a venous ulcer, it can be done even with the open or infected ulcer.

The results are visible within a few days.
Where do we do it?
IN NAVARRA AND MADRID
The Vascular Surgery Service
of the Clínica Universidad de Navarra
The Vascular Surgery Service of the Clinic has the latest technology for the diagnosis, treatment and surgery of vascular pathologies. Our wide experience, framed in the quality care environment of the University of Navarra Clinic, allows us to offer the patient the most effective and innovative treatments.
We have an operating room specialized in vascular surgery, equipped with advanced equipment for the surgical treatment of the most important vascular diseases.
We are pioneers in endovascular brachytherapy, localized radiotherapy to treat tumors, which has been practiced in the world on very few occasions.
Diseases we treat
Diseases of the aorta

Carotid diseases

Chronic venous insufficiency (varicose veins)

Ischemia of lower extremities

Varicose ulcers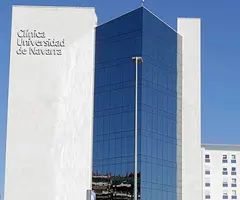 Why at the Clinica?
En menos de 24 horas podemos realizar las pruebas necesarias para establecer el diagnóstico y el planteamiento del tratamiento.
Área de Flebología pionera en España en el tratamiento de varices con microespuma.
Our team of professionals
Specialists in Vascular Surgery with experience in the treatment of varicose veins with microfoam