Hemangiomas
"Although it has been used in the past, hemangiomas should never be treated with radiation therapy. These lesions should be treated in reference centers".
DR. JOSÉ IGNACIO LEAL
PERSON IN CHARGE. VASCULAR SURGERY SERVICE

Hemangiomas are benign vascular tumors that, although they may be present from birth, mostly appear during the first weeks of life.
If the accumulation of blood vessels is deep within the body, a CT scan or MRI may be needed.
Treatment depends on the size, location and severity of the hemangiomas.
Generally, treatment of small hemangiomas or non-invasive ones is not recommended, as they will disappear spontaneously.
However, hemangiomas can cause bleeding problems, breathing or feeding difficulties, growth alterations or a deterioration in vision that may require medical or surgical intervention.

Do you need a remote second opinion?
Our professionals will provide you with a medical evaluation without you having to leave your home.
What are the symptoms of hemangiomas?
During the first months of life, hemangiomas grow, and usually after 12 months, they involute or return. This "disappearance" can last between 3 and 10 years.
They are most often located on the head and neck, in 80% of cases, and to a lesser extent on the trunk and extremities. In fact, they can appear in any body region, including internal organs (cavernous hemangioma).
The most common symptoms are:
Flat, reddish lesions.

Bleeding (if the hemangioma is injured).
Do you have any of these symptoms?
You may have a hemangioma
How are hemangiomas treated?
Among the therapeutic possibilities we have:
Lasers (pulsed dye, KTP, Nd-YAG ...) can be useful in the initial phases of superficial lesions and in the superficial portion of a deep hemangioma. They are also indicated in ulcerated hemangiomas in certain locations. They have the limitation of depth, since none of them reaches more than 2-3 mm.
Surgery is indicated, as soon as possible, in some nasal hemangiomas. This avoids the displacement and destruction of the cartilages and favors the normal development of the nose.
Corticosteroids, in intralesional injection or generally by oral route (dose of 3-4 mg/kg/day), are indicated in the late growth phase of very disfiguring hemangiomas, with vital compromise (airway obstruction) or visual sequelae (blindness). In a few days their effectiveness is checked, and they should be maintained for several weeks. Under the control of a specialist and with the help of other drugs, the side effects of this medication, which are temporary, are reduced.
Interferon is limited to those cases in which there is no response to corticosteroids, since it presents greater toxicity (spastic paralysis).
Where do we treat it?
IN NAVARRE AND MADRID
The Vascular Surgery Service
of the Clínica Universidad de Navarra
The Vascular Surgery Service of the Clinic has the latest technology for the diagnosis, treatment and surgery of vascular pathologies. Our wide experience, framed in the quality care environment of the University of Navarra Clinic, allows us to offer the patient the most effective and innovative treatments.
We have an operating room specialized in vascular surgery, equipped with advanced equipment for the surgical treatment of the most important vascular diseases.
We are pioneers in endovascular brachytherapy, localized radiotherapy to treat tumors, which has been practiced in the world on very few occasions.
Diseases we treat
Diseases of the aorta

Carotid diseases

Chronic venous insufficiency (varicose veins)

Ischemia of lower extremities

Varicose ulcers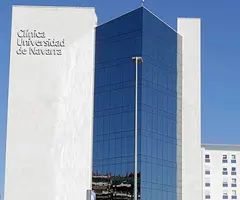 Why at the Clinica?
En menos de 24 horas podemos realizar las pruebas necesarias para establecer el diagnóstico y el planteamiento del tratamiento.
Área de Flebología pionera en España en el tratamiento de varices con microespuma.
Our team of professionals