Thyroid function tests
"Thyroid hormones are essential to an individual's normal metabolism".
DR. ÁLVARO GONZÁLEZ HERNÁNDEZ DIRECTOR. BIOCHEMISTRY DEPARTMENT
Thyroid function tests are blood tests to analyze the functioning of the thyroid gland. Plasma TSH, free T4 and total T3 are analyzed.
Normal TSH levels are between 0.37 and 4.7 mIU/L, with levels varying from lab to lab. Plasma T4 levels are between 60 and 150 nmol/L and T3 levels are between 1.2 and 2.7 nmol/L.
Some alterations of the thyroid gland have their origin in an autoimmune disease. In these cases it is interesting to measure the levels of some autoantibodies, such as the anti-thyroglobulin, anti-thyroid peroxidase or anti-TSH receptor antibodies.
When are thyroid function tests indicated?
Thyroid hormones are critical to an individual's normal metabolism. They intervene in the metabolism of carbohydrates, lipids, proteins and affect such important organs as the heart.
The function of the thyroid gland is controlled by another gland called the hyposes. This gland, located at the base of the skull, produces a hormone called thyrotropin or TSH which is the thyroid stimulating hormone.
TSH is very sensitive to variations in circulating levels of T4 and T3 hormones. A small increase in the concentration of free T4 produces a large decrease in the concentration of TSH, and vice versa.
Most frequent indications of this test:
Do you have any of these diseases?
You may need to have your thyroid function tested
Where do we do it?
IN NAVARRE AND MADRID
The Clinical Biochemistry Service
of the Clínica Universidad de Navarra
The Clinical Biochemistry Service of the Clinica Universidad de Navarra is responsible for performing the biochemical analyses requested by the medical specialists of our center.
We carry out technical quality controls to guarantee the proper functioning of the equipment and the highest precision in the results obtained from the samples.
In order to guarantee excellence in patient service, we offer the response with the results of the analyses in the shortest possible time, responding in only 46 minutes in some cases of general analysis.
Organized in care units
General biochemistry.

Electrolytes.

Hormones, urine and proteins.

Markers.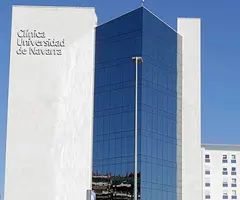 Why at the Clinica?
Maximum speed in offering the analytical results.
We carry out quality controls to guarantee the correct and most precise results obtained.
We work in a multidisciplinary way with all the departments of the Clinic.
Our team of professionals