Get to know our clinical trials
Clinical trial of REGN5458 in combination with other antineoplastic treatments for patients with relapsed or refractory multiple myelomaClinical trial of REGN5458 in combination with other antineoplastic treatments for patients with relapsed or refractory multiple myeloma
THIS STUDY IS INVESTIGATING AN EXPERIMENTAL DRUG CALLED REGN5458 (REFERRED TO AS "STUDY DRUG" IN THIS DOCUMENT) IN COMBINATION WITH OTHER DRUGS FOR THE TREATMENT OF CANCER. PREVIOUSLY, REGN5458 HAS BEEN STUDIED ALONE AS MONOTHERAPY (WITHOUT COMBINING IT WITH ANY OTHER CANCER TREATMENT) IN PATIENTS WITH MULTIPLE MYELOMA THAT HAS RECURRED AND NEEDS RETREATMENT. IN THIS STUDY, REGN5458 WILL BE COMBINED FOR THE FIRST TIME WITH OTHER CANCER TREATMENTS. THE MAIN OBJECTIVE IS TO FIND OUT WHETHER REGN5458 CAN BE SAFELY ADMINISTERED WITH OTHER CANCER TREATMENT DRUGS AND, IF SO, WHAT DOSE OF REGN5458 SHOULD BE USED FOR EACH COMBINATION. THIS STUDY ALSO SEEKS TO ANSWER OTHER QUESTIONS, SUCH AS: . HOW MANY PATIENTS TREATED WITH REGN5458 IN COMBINATION WITH EACH OF THE OTHER CANCER TREATMENTS HAVE AN IMPROVEMENT IN MULTIPLE MYELOMA. . WHAT SIDE EFFECTS MAY BE CAUSED BY TAKING REGN5458 TOGETHER WITH ANOTHER CANCER TREATMENT . . HOW MUCH OF THE STUDY DRUG THE PATIENT HAS IN HIS/HER BLOOD AT DIFFERENT TIMES . . WHETHER THE BODY MAKES ANTIBODIES AGAINST THE STUDY DRUG (WHICH COULD REDUCE ITS EFFECTIVENESS OR CAUSE SIDE EFFECTS). . EXPLORATORY RESEARCH TO LEARN MORE ABOUT THE STUDY DRUG AND MULTIPLE MYELOMA.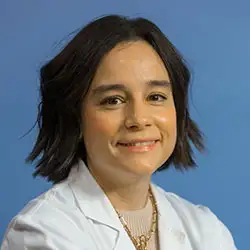 Navarre headquarters
Madrid headquarters
---
Technical Summary
PHASE IB STUDY OF REGN5458 (BISPECIFIC ANTI-CD3 AND ANTI-BCMA ANTIBODY) IN COMBINATION WITH OTHER ANTINEOPLASTIC TREATMENTS FOR PATIENTS WITH RELAPSED OR REFRACTORY MULTIPLE MYELOMA
Code EudraCT: 2018-003188-78
Protocol number: R5458-ONC-2012
Promoter: Regeneron Pharmaceuticals, Inc.
* The trials only admit a limited number of patients and are subject to inclusion and exclusion criteria. The specialist who assesses your case will inform you of the conditions required to participate in the clinical trial.
More information about this clinical trial
Information offered by the Spanish Registry of Clinical Studies


Do you want to participate in this trial?
Request an appointment for our specialists to assess whether you qualify for this clinical trial
---

Do you prefer to send us your reports?
If you prefer, you can send us your medical information and our specialists will evaluate your case without the need to come to the Clinica.