Get to know our clinical trials
Clinical trial of JNJ-79635322, a tri-specific antibody, in patients with relapsed or refractory multiple myeloma.
THE OBJECTIVE OF THIS STUDY IS TO TEST WHETHER JNJ-79635322 IS SAFE AND USEFUL FOR TREATING PATIENTS WITH RELAPSED OR REFRACTORY MULTIPLE MYELOMA. THE STUDY WILL TRY TO FIND THE DOSE OF JNJ-79635322 THAT BEST TREATS RELAPSED OR REFRACTORY MULTIPLE MYELOMA. A DOSE IS THE AMOUNT OF A DRUG TAKEN AT ONE TIME. THIS STUDY WILL ALSO LOOK AT THE EFFECTS IN RELAPSED OR REFRACTORY MULTIPLE MYELOMA AND POSSIBLE SIDE EFFECTS. SIDE EFFECTS ARE THE UNEXPECTED OR UNWANTED REACTIONS THAT OCCUR FROM TAKING A DRUG. ANOTHER GOAL OF THIS STUDY IS TO FIND OUT HOW LONG JNJ-79635322 STAYS AND ACTS IN THE BODY. THIS IS DETERMINED BY BLOOD TESTS.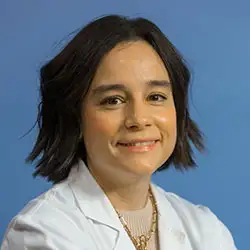 Navarre headquarters
Madrid headquarters
---
Technical Summary
PHASE I, FIRST-IN-HUMAN DOSE-ESCALATION STUDY OF JNJ-79635322, A TRI-SPECIFIC ANTIBODY, IN PATIENTS WITH RELAPSED OR REFRACTORY MULTIPLE MYELOMA
Code EudraCT: 2022-001465-12
Protocol number: 79635322MMY1001
Promoter: Janssen Research & Development
* The trials only admit a limited number of patients and are subject to inclusion and exclusion criteria. The specialist who assesses your case will inform you of the conditions required to participate in the clinical trial.
More information about this clinical trial
Information offered by the Spanish Registry of Clinical Studies


Do you want to participate in this trial?
Request an appointment for our specialists to assess whether you qualify for this clinical trial
---

Do you prefer to send us your reports?
If you prefer, you can send us your medical information and our specialists will evaluate your case without the need to come to the Clinica.