Thoracic Surgery
"Minimally invasive surgery allows us to perform operations that are much less aggressive for the patient, with faster recovery, fewer complications and greater safety".
DR. MARÍA RODRÍGUEZ PÉREZ CODIRECTOR. THORACIC SURGERY DEPARTMENT

The Thoracic Surgery Service of the Clinic has a team of thoracic surgeons that offers rapid care, both in the diagnosis and treatment of diseases of the thorax, thanks to the application of pioneering procedures and techniques, which make it possible to bet on minimally invasive surgical interventions (robotic and videothoracoscopic surgery) and accelerated recovery.
We have a highly specialized multidisciplinary team (Radiology, Oncology, Pneumology, Pathology and Nuclear Medicine, among others) for the treatment of diseases such as lung cancer, esophagus, thymus, mediastinum, pleural cancer and tumors and deformities of the chest wall as well as pulmonary nodules or hyperhidrosis (excessive sweating).

Do you need a remote second opinion?
Our professionals will provide you with a medical evaluation without you having to leave your home.
Comprehensive care for our patients
IN NAVARRE AND MADRID

DISEASES
Thymus tumors

Tumors and deformities of ribs and sternum

Mediastinal tumors

Thoracic trauma
TREATMENTS
High complexity open surgery

Robotic surgery

Videothoracoscopic surgery
PERSONALIZED TREATMENT
Pioneering techniques
We are one of the pioneer centers in the application of ERAS protocols, we put at your disposal a multidisciplinary team that will facilitate a faster recovery.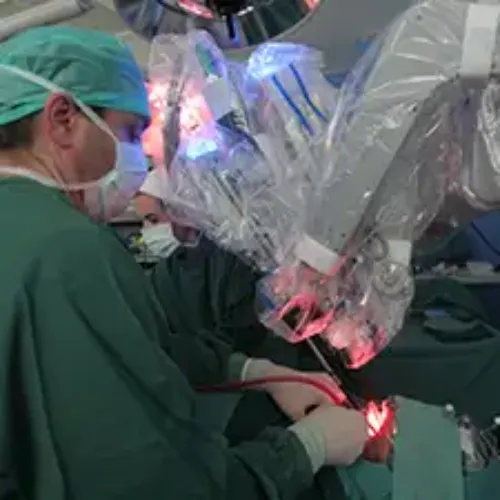 Da Vinci® robotic surgery
Minimally invasive surgery leading to less pain and faster return to daily activities.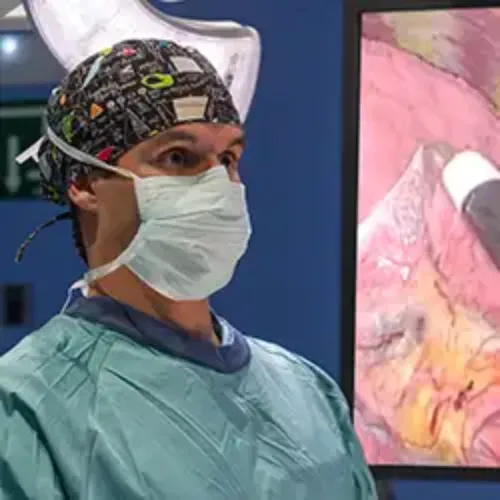 Videothoracoscopic surgery
With this surgery, it is possible to visualize and operate inside the thorax through minimal incisions of 1-2 cm in the thoracic wall.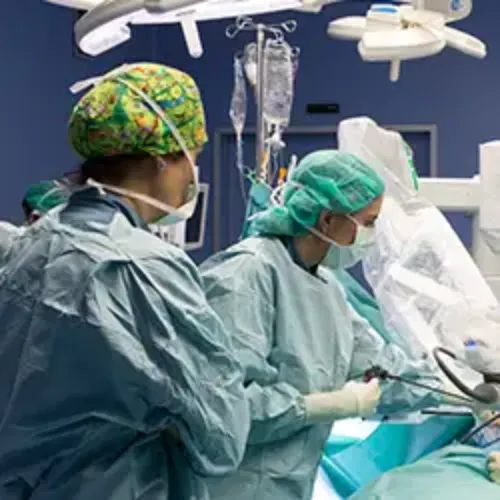 High Complexity Surgery
Our specialists are highly experienced in this type of surgery, which guarantees maximum safety for the patient.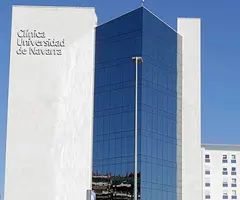 Why at the Clinic?
State-of-the-art therapeutic technology.
Expert professionals who are an international reference.
Safe and minimally invasive surgeries for the prompt recovery of our patients.
Our team of professionals

An opportunity for our patients
Experts in Accelerated Recovery
Pulmonary Surgery
We apply accelerated recovery protocols (ERAS) that seek to reduce pain, hospital stay and the appearance of possible complications associated with surgery.
Through the multidisciplinary work of specialists, highly trained in the latest advances available, the patient will experience an accelerated recovery that will allow him to resume his daily life more easily.
Thanks to our structured follow-up program, our professionals will be available to answer your questions throughout the recovery process to ensure the best results.

Research and Clinical Trials
Participating in clinical trials offers new possibilities to patients by allowing access to the latest therapeutic advances.
Surgical risk assessment (proper selection of patients to be operated on to minimize complications and improve outcomes).

Intensified recovery after thoracic surgery.

Innovation in minimally invasive surgery.

Analysis of quality and outcomes in thoracic surgery to ensure continuous improvement of patient care.
Early detection of lung cancer, both by imaging (low-dose CT) and blood tests.

Cellular and molecular markers related to lung cancer.

Metabolic markers related to lung cancer.

Clinical trials for lung cancer in locally advanced stages.
We help our patients overcome their stories
Your testimonials encourage us to continue improving our services.