Aortic aneurysm
"In cases of descending thoracic aortic aneurysm, the Clinica performs, when indicated, the repair by means of endovascular techniques".
DR. GREGORIO RÁBAGO JUAN-ARACIL
DIRECTOR. CARDIAC SURGERY DEPARTMENT

What is aortic aneurysm?
Arterial aneurysms are localized and permanent dilations of the arterial vessels.
They can appear anywhere, but their most frequent location is the abdominal aorta.
There are three types of aneurysms in the aorta:
Fusiform: affects the entire contour of the aorta. It is the most common and is associated with atherosclerosis.
Saccular: it is asymmetrical, only part of the aorta's contour is dilated.
Pseudoaneurysm: the inner layer of the aortic wall and leads to a lateral dilation of the outer layer.

Do you need a remote second opinion?
Our professionals will provide you with a medical evaluation without you having to leave your home.
What are the symptoms of an aortic aneurysm?
As for their symptoms, 75% of patients with an abdominal aortic aneurysm are asymptomatic.
When the disease causes symptoms, it is usually non-specific abdominal discomfort or low back pain.
In 25% of cases the first clinical manifestation is the rupture of the aneurysm.
What are the most common symptoms?
Unspecific abdominal discomfort.

Lower back pain.
Do you have any of these symptoms?
You may have an aortic aneurysm
Who can suffer from an aortic aneurysm?
Most patients are men over 60 years with atherosclerotic risk factors among which the use of snuff takes on special relevance. Other factors that predispose to suffer an aneurysm are: obesity, high blood pressure, diabetes, sedentary life and hypercholesterolemia.
It is estimated that 2-4% of men over 65 years are carriers of an abdominal aortic aneurysm.
Patients with a family history of aneurysms have a higher risk of suffering from an aortic aneurysm than the normal population.
¿Cuál es el pronóstico del aneurisma de aorta?
Abdominal aortic aneurysms are almost always asymptomatic lesions whose main risk is rupture. If they rupture, the actual mortality is 90% and the risk of rupture increases as the size of the lesion grows, being much higher when the diameter is greater than 5 cm.
In scheduled surgery, the chances of problems (morbidity-mortality) are around 4%.
How is an aortic aneurysm diagnosed?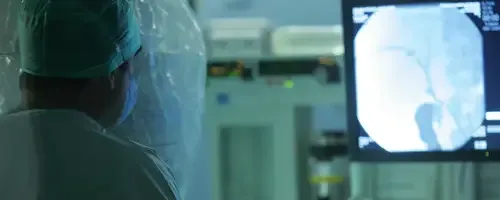 Since they are asymptomatic, they are usually detected during a clinical or radiological examination performed for another reason.
Abdominal ultrasound is the diagnostic procedure of choice for the detection of abdominal aortic aneurysm. It can also be performed by abdominal palpation.
Aneurysms can rupture once they reach a certain diameter. It is a surgical emergency with a high mortality rate; for this reason, it is advisable to treat it before its size compromises the patient's life.
If a surgical approach is considered, the study should be completed with the performance of an abdominal CT scan or a nuclear magnetic resonance. In addition, on some occasions, an arteriography may also be necessary.
How is an aortic aneurysm treated?
Currently there is no effective medical treatment and the only solution is surgery
The main criterion for establishing the pattern of action is the size of the aneurysm.
Aneurysms with surgical indication are considered those larger than 5 cm. or with growth greater than 1 cm. per year, as well as all those that are symptomatic.
In the case of small aneurysms, treatment consists of controlling the risk factors, especially hypertension, and carrying out periodic controls by means of ultrasound or CT.
There are basically two surgical techniques available today:
Resection of the aneurysm and replacement by a synthetic graft: this is a major operation and not without risk, although the results are excellent in most cases.
Endoluminal repair by means of endoprosthesis: reserved for patients at high surgical risk and with certain anatomical criteria. This type of intervention is becoming more common every day. It has the advantages of minimal surgical trauma, the absence of blood transfusions and the reduced time spent by the patient in the intensive care unit.
Where do we treat it?
IN NAVARRE AND MADRID
The Department of Cardiac Surgery
of the Clínica Universidad de Navarra
The Cardiac Surgery Department of the Clinic is backed by its extensive experience of more than 50 years. It is a pioneer in the introduction of the most complex procedures and the most avant-garde techniques.
Our surgeons are specialists trained in international reference centers, which combine the application of the latest techniques with personalized treatment to our patients.
We also have a team of highly specialized nurses, both in surgical and clinical aspects.
Treatments we perform
Thoracic aortic surgery

Atrial Fibrillation Surgery

Heart failure surgery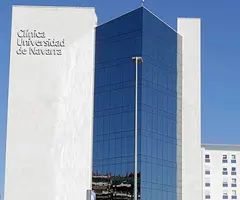 Why at the Clinica?
Pioneers in advanced procedures and techniques.
Implantation of the first total artificial heart in Spain in 2016.
Specialists trained in international centers of reference at national level.
Our team of professionals