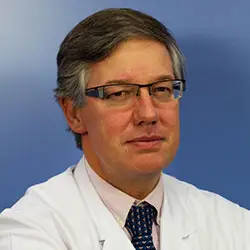 Dr. Gregorio Rábago Juan-Aracil
Director of Cardiac Surgery Department
Cardiac Surgery Specialist
Works at:
Navarre headquarters
Be part of:
Clínica Universidad de Navarra
Cima Universidad de Navarra
Professional career
Graduated in Medicine and Surgery from the Autonomous University of Madrid. He specialised in Thoracic and Cardiovascular Surgery at the la Pitié-Salpetriérè Hospital in Paris, France (1988-1993). Between 1993 and 1996, he did a Fellowship in the Thoracic and Cardiovascular Surgery Department at the University of Arizona (Tucson, USA), where he was chief of residents during the 1994-1995 academic year. At this institution, in addition to his work as a cardiovascular surgeon, he developed his expertise in cardiac transplantation and circulatory assistance in a more intense way. He joined the Clínica Universidad de Navarra in 1996. Fellow of the European Board of Thoracic and Cardiovascular Surgeons (FEBTS) since 2000.
He is now in charge of the Cardiac Surgery Unit and heart transplant programme at the Clínica Universidad de Navarra.
AREAS OF INTEREST
Minimally invasive cardiac surgery using diverse techniques (HeartPort, coronary surgery without CEC).
He has actively taken part in various international studies and works concerning heart transplants and mechanical assistance programmes such as definitive or temporary cardiac substitution therapy (recuperation or used as a bridge to transplant).
Activity
As a researcher
He has published more than 100 articles in national and international magazines.
He has participated in 21 book chapters.
He has presented more than 200 papers to congresses of the specialty.

Awards
Award to the best communication of the XV congress of the Spanish Society of Cardiovascular Surgery.
Echebano Scholarship
Scholarship from the Government of Navarra. (1999-2001)
Scholarship from the Government of Navarra (2001)
Scholarship from the Government of Navarra (1999-2000)
Roche Fellowship for Basic and Clinical Research in Cardiology
Novartis Award from the Spanish Society of Cardiology to the best communication on Transplantation 2002.
FEGAS Award 2008 from the Galician School of Health Administration.
Prize from the Spanish Foundation of Radiology, to the best article or scientific work published in national and foreign journals during 2007 and 2008.
Second Prize to the best work published in Spanish Urological Records, in its section A, Originals of the year 2008.
Scientific organizations
Numerary Member of the Spanish Society of Cardiovascular Surgery.
Full member of the Mediterranea Association of Cardiology and Cardiac surgery.
Full member of the College Francais de Chirurgie Thoracique et Cardio-vasculaire
Lifetime member of the Board of Trustees of the Fundación Conchita Rábago de Jiménez-Díaz
Active member of the International Society of Heart and Lung Transplantation
Full member of the Spanish Society of Cardiology.
Fellow of European Thoracic and Cardiovascular Surgeons (FETCS)
Member of the European Association of Cardiothoracic Surgery (2005)
Full member of the Society of Cardiovascular Surgeons (2005)
Latest scientific publications