Home >
Dr. Gregorio Rábago Juan-Aracil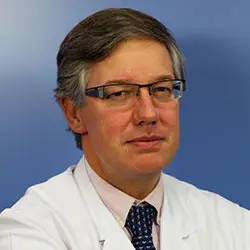 meet

Dr. Gregorio Rábago Juan-Aracil

Deputy Director of Cardiology and Cardiac Surgery Department
Cardiac Surgery Specialist
training and

Professional Career

Graduated in Medicine and Surgery from the Autonomous University of Madrid. He specialised in Thoracic and Cardiovascular Surgery at the la Pitié-Salpetriérè Hospital in Paris, France (1988-1993). Between 1993 and 1996, he did a Fellowship in the Thoracic and Cardiovascular Surgery Department at the University of Arizona (Tucson, USA), where he was in charge of the class of 1995 residents. On top of his work as a cardiovascular surgeon, he developed his knowledge of heart transplants and circulatory support. He began work at the Clínica Universidad de Navarra in 1996. He has been a Fellow of the European Board of Thoracic and Cardiovascular Surgeons (FEBTS) since 2000.

He is now in charge of the Cardiac Surgery Unit and heart transplant programme at the Clínica Universidad de Navarra.

His main areas of interest include minimally invasive cardiac surgery using diverse techniques (HeartPort, coronary surgery without CEC). He has actively taken part in various international studies and works concerning heart transplants and mechanical assistance programmes such as definitive or temporary cardiac substitution therapy (recuperation or used as a bridge to transplant).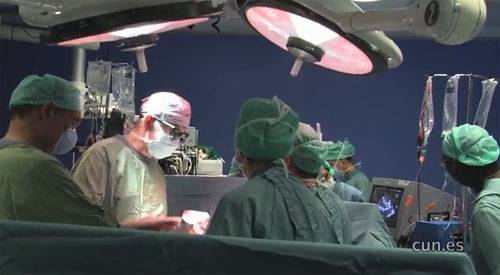 Hacia el corazón artificial
ACTIVITY
As a researcher
Ha publicado más de 100 artículos en revistas nacionales e internacionales.
Ha participado en 21 capítulos de libros.
Ha presentado más de 200 comunicaciones a congresos de la especialidad.
Spanish Cardiovascular Surgery Society
Mediterranean Association of Cardiology and Cardiac surgery
Titular Member of the French School of Thoracic and Cardiovascular Surgery
Life Member of the Conchita Rábago de Jiménez-Díaz Foundation Board
International Society of Heart and Lung Transplantation
Spanish Cardiology Society
Fellow of European Thoracic and Cardiovascular Surgeons (FETCS)
European Association of Cardiothoracic Surgery. (2005)
Cardiosurgeons Society (2005)
Prize for the best speech at the XV Spanish Cardiovascular Surgery Society conference
Echebano grant
Government of Navarra grant (1999-2001)
Government of Navarra grant (2001)
Government of Navarra grant (1999-2000)
Roche grant for basic and clinical cardiology research
Novartis prize from the Spanish Cardiology Society for the best speech about transplants, 2002
FEGAS prize 2008 from the Galician Health Administration School
Prize from the Spanish Radiology Foundation for the best Scientific Published article or work in national and international magazines, 2007-2008
Second Prize for the best published work in Spanish Urological Acts, paragraph A, 2008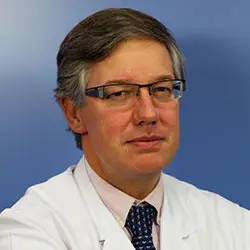 In cases of descending thoracic aortic aneurysm, the clinic performed, when indicated, repair by endovascular techniques."
you may

BE INTERESTED

The Clínica is the spanish private hospital with the greatest technological equipment in one single center.

If you live outside of Spain and you wish to receive care at the Clínica, learn about our services for international patients.

Why we are different from other healthcare centers.
Quality, speed, comfort and results.