Breast ultrasound
"In young women who normally have denser breasts, it is preferable to perform a breast ultrasound because it is more sensitive to finding lesions".
DR. LUIS PINA INSAUSTI RADIOLOGIST. MAMMARY PATHOLOGY AREA
Breast ultrasound is a diagnostic technique that uses ultrasound to form an image of the structure of the breast.
Ultrasound uses ultrasound, not X-rays. Multiple studies have shown that these ultrasounds are harmless and can be used safely, as in the case of a pregnant woman where X-rays or a scanner would not be appropriate.
This scan does not duplicate the information obtained in a mammography but is a complementary evaluation and allows distinguishing solid lesions from liquid ones (cysts).
In addition, it allows the detection of breast cancers that are not visible on mammography and is an excellent guidance technique for performing breast biopsies.
When is a breast ultrasound indicated?
Breast ultrasound is one of the diagnostic tests that are performed routinely and in many cases as a complement to mammography.
Most ultrasound examinations of the breast are performed to obtain more specific information about the results of a mammography or a clinical examination of the breast.
Breast cancer is the most common malignant tumor in women.
Since many of these cancers are treatable when detected at an early stage, the effective use of diagnostic techniques to detect them as early as possible is essential.
Most frequent indications of this test:
Breast cancer.

Breast nodules.

Breast cysts.
Do you have any of these diseases?
You may need to have a breast ultrasound
How is a breast ultrasound performed?
The exploration is performed with the patient lying on a stretcher.
A small amount of gel is placed on the breast and the radiologist will place a transducer that will move to obtain the desired images.
It is a completely painless procedure and the scan takes approximately 30 minutes.
No previous preparation is necessary.
You will be able to have a normal breakfast. If you take medication on a regular basis, you can also take it.
Where do we do it?
IN NAVARRE AND MADRID
The Breast Pathology Area
of the Clínica Universidad de Navarra
The Clinic is the most technologically advanced private hospital in Spain in a single center. For this reason, the Breast Pathology Area is able to facilitate diagnosis 24 hours after performing the tests and begin treatment in approximately 48 hours.
Our nursing staff is specialized in breast pathology and performs patient education, telephone follow-up and advice, before and after surgery.
What diseases do we treat?
Inflammatory diseases of the breast

Benign tumors: fibrocystic mastopathy, breast fibroadenoma, etc.

Risk lesions that require vigilance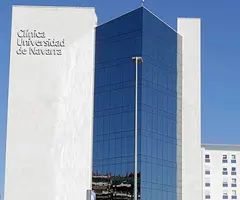 Why at the Clinica?
Prestigious professionals who are international references.
Speed in the diagnosis and treatment of breast problems.
Specialized nursing for the best care of our patients.
Our team of professionals