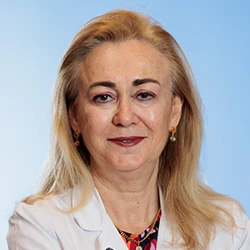 Dr. Isabel Rubio Rodríguez
Director of the Breast Pathology Unit. Specialist in general surgery and digestive system.
Works at:
Madrid headquarters
Be part of:
Clínica Universidad de Navarra
Cancer Center Clínica Universidad de Navarra
Professional career
She graduated from the University of Salamanca (1989), specialized in General Surgery at the Hospital Infanta Cristina in Badajoz and, in 2000, she received her doctorate from the University of Extremadura.
With the aim of improving training in the management of breast cancer patients, she moved to the United States and carried out a subspecialization in breast oncological surgery at Arkansas Cancer Research Center for two years.
She then completed her training for eight months at the Breast Cancer Center at MDAnderson in Houston, USA.
Until she joined the Clinic, she was the coordinator of the Breast Pathology Unit at the Vall d'Hebron University Hospital in Barcelona and co-director of the Breast Cancer Unit at the Baselga Oncology Institute (Quirón Hospital Group) in Barcelona.
RESEARCH AREAS
She is national coordinator of clinical trials in genomic profiles such as the MINDACT study, participating in studies of breast cancer diagnosed in pregnancy, and of sentinel node biopsy after neoadjuvancy.
It is part of the EORTC study in male breast cancer. Main researcher in the international prospective register of areola-nipple complex preserving mastectomy (INSPIRE study) within EURECCA (European Registry of Cancer Care).
AREAS OF INTEREST
Her area of expertise focuses on the use of sentinel lymph node and conservative surgery after neoadjuvant treatment, intraoperative breast ultrasound, risk reduction surgery in patients at high risk of developing breast cancer, as well as sentinel prevention.
Activity
As an educator
Associate Professor of Surgery at the Autonomous University of Barcelona.
As a researcher
She has published more than 70 articles in national and international journals and has collaborated on several books related to breast cancer.
She is a reviewer of prestigious journals such as Annals of Surgical Oncology, The Breast and European Journal of Surgical Oncology, as well as an associate editor in the Journal of Surgical Oncology.

Acknowledgement
ESSO President. European Society of Surgical Oncology (ESSO).
Appointed President-Elect of EUSOMA (European Society of Breast Cancer Specialists) in 2018
Scientific organizations
Member of the Board of Directors of the Spanish Association of Oncological Surgeons (SEOQ) and until this year an international member of the American Society for Oncological Surgery (SSO).
She is also a director of the Breast Surgery Division of the European Union of Medical Specialists (UEMS), and an examiner for the European Board of Surgery Qualifications (EBSQ) in Breast Surgery.
She has been president of the Spanish Association of Breast Surgeons (AECIMA, 2014-2016).
Latest scientific publications