Pain
"No person feels pain in the same way, so it is essential to perform a personalized treatment".
DR. NICOLÁS VARELA DIRECTOR. PAIN AREA
Since pain, and its perception, is intrinsic to a person, its treatment requires personalised attention adapted to each patient's particular situation. Along these lines, the objective of the specialists in the Pain Area of the Clinic is to offer patients complete and individualised management of pain in order to improve their quality of life.
The exclusive dedication of the professionals in the Area of Pain makes it possible to establish a diagnosis and a plan of action within 24 hours so that the patient can initiate treatment as soon as possible.
Furthermore, thanks to its consolidation as a specialised area, it operates in a multidisciplinary manner with other departments (such as Neurology, Neurosurgery, Traumatology, Rheumatology, Rehabilitation and Psychiatry) in order to address any type of pain in a global manner.
Advanced diagnosis and treatment for better patient care
IN NAVARRA AND MADRID

DISEASES
Localised pain

Spinal pains (lumbago and sciatica)

Complex regional pain syndrome

Fibromyalgia and generalised pain

Chronic post-operative pain

Phantom limb pain TREATMENTS
Epidural blocks

Peripheral blocks

Intrathecal Pumps

Spinal cord stimulators

Lidocaine Perfusion

Radio frequency
It is indicated for the treatment of intractable neuropathic pain with very positive results
Spinal cord stimulation
The aim of this technique that uses electrodes to interrupt the sending of the painful signal through the marrow to the brain is to achieve an improvement in the quality of life by controlling and relieving pain.
The Pain Area of the Clinic has an experienced team with exclusive dedication, which allows the patient quick access to this intervention aimed at treating their type pf pain.
DIAGNOSIS AND PERSONALIZED TREATMENT
Personalised assistance
A multi-disciplinary team is responsible for the study and implementation of the therapeutic plan to alleviate the pain in a coordinated manner.

Patient
education
In addition to setting up treatment, the patients are provided with useful guidelines in order to improve the quality of life in spite of the pain.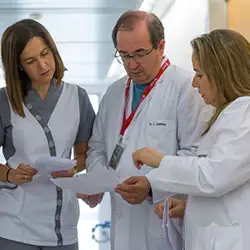 Individual
monitoring
The patient's evolution and response to treatment is monitored for correct assistance.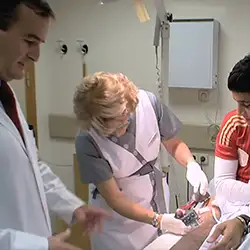 Nursing
Team
Our nursing team specializes in pain treatment and management, which guarantees the patient's well-being.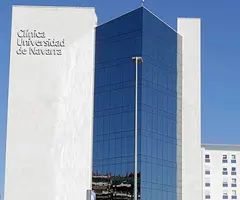 Why to choose the Clinic?
Speed: immediate diagnosis and initiation of treatment.
Advanced techniques: latest technology available for patients.
Multidisciplinary: comprehensive medical care according to a personalised plan.
Our team of professionals
We help our patients to overcome their stories
Their testimonies encourage us to continue improving our services