Get to know our clinical trials
Clinical trial of TNB113 in combination with pembrolizumab vs. pembrolizumab monotherapy as first-line treatment for patients with head and neck squamous cell carcinoma
THIS STUDY IS COMPOSED OF 2 PARTS, PART A AND PART B. THE MAIN OBJECTIVE OF PART A IS TO CONFIRM WHETHER THE COMBINATION OF THE STUDY DRUG WITH PEMBROLIZUMAB IS WELL TOLERATED AND SAFE, AND WHETHER IT HELPS TREAT PEOPLE WITH CCECC. THE MAIN OBJECTIVE OF PART B IS TO EVALUATE WHETHER THE COMBINATION OF THE STUDY DRUG WITH PEMBROLIZUMAB WORKS BETTER TO TREAT PEOPLE WITH CCECC THAN PEMBROLIZUMAB ALONE.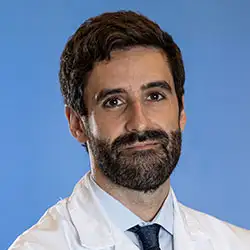 ---
Technical Summary
OPEN-LABEL, RANDOMIZED, PHASE II TRIAL OF TNB113 IN COMBINATION WITH PEMBROLIZUMAB VERSUS PEMBROLIZUMAB ALONE AS FIRST-LINE TREATMENT FOR PATIENTS WITH UNRESECTABLE, RECURRENT OR METASTATIC HEAD AND NECK SQUAMOUS CELL CARCINOMA (HNSCC) THAT IS HUMAN PAPILLOMAVIRUS GENOTYPE 16 (HPV16)-POSITIVE AND EXPRESSES PD-L1. IMMUNOTHERAPY
Code EudraCT: 2020-001400-41
Protocol number: BNT113-01
Promoter: BiOncoTech Therapeutics S.L.
* The trials only admit a limited number of patients and are subject to inclusion and exclusion criteria. The specialist who assesses your case will inform you of the conditions required to participate in the clinical trial.
More information about this clinical trial
Information offered by the Spanish Registry of Clinical Studies


Do you want to participate in this trial?
Request an appointment for our specialists to assess whether you qualify for this clinical trial
---

Do you prefer to send us your reports?
If you prefer, you can send us your medical information and our specialists will evaluate your case without the need to come to the Clinica.