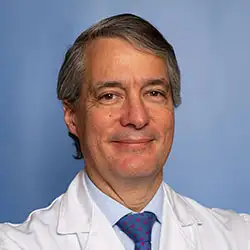 Dr. Mauricio Cambeiro
Specialist in Radiation Oncology
Preferential dedication to breast radiotherapy.
Works at:
Madrid headquarters
Be part of:
Clínica Universidad de Navarra
Cancer Center Clínica Universidad de Navarra
Professional career
Degree in Medicine and Surgery (1996), Specialist in Radiation Oncology (2001) and Doctor of Medicine (2007) from the University of Navarra.
He completed his post doctoral specialized training in Brachytherapy in the Department of Radiation Oncology at the University of California in San Francisco UCSF (California) and the Endocuritherapy Center CET Cancer Center (Oakland, California) years 2007-2008.
Consultant of the Radiation Oncology Service of the Clínica Universidad de Navarra.
Coordinator of the radiotherapy treatment of breast cancer area.
RESEARCH AREAS
Reviewer of articles in 1 indexed scientific journal.
AREAS OF INTEREST
Responsible for the program of special brachytherapy techniques in breast cancer.
Brachytherapy treatment in prostate cancer, head and neck tumors, gynecological cancer and soft tissue sarcomas.
Activity
As a researcher
Author of 23 articles in international scientific journals of the specialty.
He has presented more than 50 communications to national and international congresses.
Latest scientific publications