Orthognathic Surgery
"This intervention has very satisfactory results, without visible scars and with a short hospital stay".
DR. BERNARDO HONTANILLA CALATAYUD SCIENTIFIC DIRECTOR. RESTORATIVE AND PLASTIC SURGERY DEPARTMENT
What is orthognathic surgery?
Orthognathic surgery is performed to establish a correct relationship between the maxillary bone and the jaw, in those patients who suffer from an inadequate bite and cannot be treated with orthodontics alone.
The Clínica Universidad de Navarra is highly experienced and has the most advanced technological means at its disposal to carry out an exhaustive study of each patient, make an accurate diagnosis and apply the optimum treatment.
There are two main reasons for deciding to undergo surgery: aesthetic, improving the general appearance of the face and smile; and functional, by achieving a correct way of chewing and helping to maintain good health of the teeth, gums and temporomandibular joints. The objective is to achieve the best occlusion in a more harmonious face.
These interventions have very satisfactory results, leave no visible scars and require a short hospital stay.
When is orthognathic surgery indicated?
Orthognathic surgery is not only aimed at those patients who have a significant facial deformity, but also at all those who have an altered way of biting due to an inadequate position of the teeth and jaw bones that the orthodontist cannot solve in isolation.
Orthognathic surgery allows to solve all those problems generated by an irregular growth of the bones of the face and that cause problems in the way of biting, speaking and sleeping, as well as in the aesthetic aspect.
Most frequent indications:
Delayed upper jaw.

Elongated upper jaw.

Small or delayed jaw.

Large or advanced jaw.

Open bite.

Mandibular asymmetry.

Deformities in the lips or palate of newborn children.

Obstructive sleep apnea syndrome.
Do you have any of these problems?
Orthognathic surgery may be necessary
¿Cómo se realiza la cirugía ortognática?
Mandibular Advancement Surgery
This alteration occurs when the lower teeth and chin are set back from the rest of the face. It can lead to jaw joint problems and cause sleep apnea syndrome.
Open bite closure surgery
The upper and lower teeth do not contact when the mouth is closed and leave a space. The lips have to be forced closed and it is difficult to eat. In extreme cases, it can affect speech. The teeth that do contact are overworked, so they also break sooner and there is often pain in the jaw joint.
Surgery for mandibular asymmetry
The chin and teeth are turned to one side, with all the bite problems this entails.
Step 1. From each patient, it is performed:
Radiological study in three dimensions.

Taking of digital photographs.

Models of their teeth.
Step 2
All this information is digitized in order to determine which part of the face does not harmonize with the rest and what type of treatment is the most appropriate.
Step 3
A preliminary treatment plan is made and the patient is prepared with orthodontics so that their teeth are perfectly aligned at the time of the intervention.
Often the teeth adapt to the poor position of the bones and do not fit well when they are placed in their correct place.
Step 4
Once the preparation has been completed, a simulated intervention is performed through a computer program that does not allow us to know exactly which procedures are the most appropriate for each case.
The patient is then operated on a virtual model and, if the result is approved, the real operation is performed.
These interventions have very satisfactory results, do not leave visible scars and require a short hospital stay.
Most patients leave the clinic within 24-72 hours after the operation. They can talk and eat from the first day and after 10-15 days return to their normal life.
Where do we do it?
IN NAVARRA AND MADRID
The Department of Plastic, Aesthetic and Reconstructive Surgery
of the Clínica Universidad de Navarra
The Department of Plastic, Reconstructive and Aesthetic Surgery has extensive experience in plastic surgery, both aesthetic and reconstructive. We are experts in microsurgical repair of blood vessels and nerves.
We have the latest technology and powerful microscopes that allow complete treatments with quality assurance and total security in any type of solution you need.
Reconstructive Surgery
Head and neck

Vascular abnormalities

Craniofacial

Burns

Auricular reconstruction
Aesthetic Surgery
Breast Surgery

Liposuction
Reconstructive Microsurgery
Reconstruction with microsurgical flaps.

Nerve microsurgery.

Reimplants.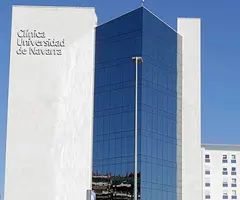 Why at the Clinica?
Experience of more than 20 years in the aesthetic treatment.
Professional experts trained in international reference centers.
Safety: Interdisciplinary attention within a hospital center.
Our team of professionals
Specialists with experience in performing orthognathic surgery