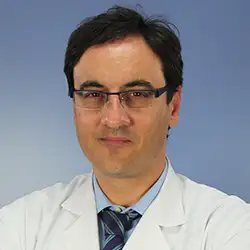 Dr. Rafael Martínez-Monge
Co-director of the Department of Radiotherapeutic Oncology.Radiotherapeutic Oncology Specialist
Works at:
Navarre headquarters
Be part of:
Cima Universidad de Navarra
Clínica Universidad de Navarra
Cancer Center Clínica Universidad de Navarra
Professional career
Graduated in Medicine from the University of Zaragoza (1989) and was awarded his doctorate (1994) from the University of Navarra. He carried out his postdoctoral residency as a Radiation Oncology Fellow at The Ohio State University, United States (1996-1998), and was then promoted to Visiting Assistant Professor (1998-1999).
He started working in the Clínica Universidad de Navarra in 1999, where he has been in charge of the Radiotherapeutic Oncology Department since 2001.
RESEARCH AREAS
He put in place the Brachytherapy Unit at the Clínica in 2000, where in 2010, more than 2000 patients had been treated.
This shows the intramural development of the Perioperative High Dose Rate Brachytherapy technique, working alongside various other surgical departments, especially the head and neck, sarcomas and gynaecology units.
AREAS OF INTEREST
His main areas of interest are gynaecological and prostate tumours, sarcomas and head and neck cancer.
Activity
As an educator
He was accredited as an associated professor by the ANECA (2005), as a titular professor by National Habilitation (2007) and as a University Expert in 2010.
As a researcher
He has written more than 80 indexed scientific publications. He has also been the invited speaker at more than 50 doctorate programmes, courses and scientific symposiums. He was given a Resident Award by the American Brachytherapy Society (ABS, 1998), a Roentgen Fellow Award from the Radiological Society of North America (RSNA, 1998), as well as two prizes from the Spanish Society of Radiotherapeutic Oncology (SEOR, 2001 y 2007).
He is a member of various editorial committees for international Oncology magazines and associated editor of the Brachytherapy magazines, the official magazine of the American Brachytherapy Society.
Latest scientific publications