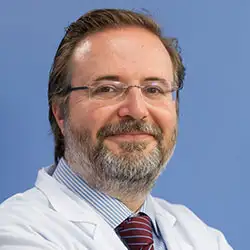 Dr. Manuel Alegre
Director of the Neurophysiology Service
Preferred dedication: Intraoperative monitoring in functional surgery.
Works at:
Navarre headquarters
Be part of:
Clínica Universidad de Navarra
Cima Universidad de Navarra
Professional career
Graduate (1994) and Doctor (2002) in Medicine and Surgery from the University of Navarra.
Specialist in Neurology and Clinical Neurophysiology.
Director of the Neurophysiology Service of the Clínica Universidad de Navarra.
RESEARCH AREAS
The main field of research interest is the brain oscillatory activity in relation to physiological motor control and its alterations (movement disorders).
Other fields of interest are the physiology of the auditory pathway and the relationship between oscillatory activity and cognition.
AREAS OF INTEREST
Motor control.
Movement disorders.
Evoked potentials.
Intraoperative neurophysiology.
Activity
As an educator
Full professor of the Department of Neurology and Neurosurgery of the Faculty of Medicine, accredited by ANECA in 2011, with 3 recognized six years of research.
He teaches at the undergraduate level (Physiology, Neurosciences, Clinical Practice, Clinical Neurophysiology) and at the postgraduate level (Master in Biomedical Research).
He has been a member of the Medical Education Unit and director of the Simulation Center of the Faculty of Medicine, as well as director of three doctoral theses.
As a researcher
Publications: 98 articles in peer-reviewed, indexed scientific journals (more than a third of them in the first quartile). Total impact: 316. H factor: 28. i10 index: 55.
He has been a member of the editorial board of Clinical Neurophysiology and Assistant Editor of Movement Disorders.
He has participated in 9 publicly funded research projects in competitive calls, as principal investigator in four of them.
He has written 7 book chapters and a complete book.
References:
ORCID: orcid.org/0000-0003-4985-9724
Reseacher ID: F-5379-2011

Awards
Extraordinary Award for Bachelor's Degree (1994).
Extraordinary Doctorate Award (2002).
Scientific organizations
Spanish Society of Neurology.
Movement Disorders Society.
Society for Neuroscience.
Member of the editorial committee of Clinical Neurophysiology.
Editorial assistant of Movement Disorders.
Latest scientific publications