Home >
Dra. Marta Ferrer Puga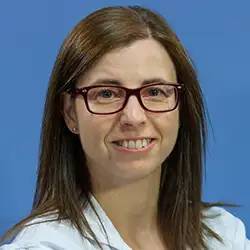 meet

Dr. Patricia Fernández Robredo

Investigadora del Laboratorio de Oftalmología Experimental.
Diagnóstico molecular no invasivo, biomarcadores de patologías retinianas, inflamación, angiogénesis, envejecimiento celular, antioxidantes, nanoterapia, terapia celular, terapia personalizada y estudio del género como factor de predisposición en patologías retinianas.
training and

Professional Career

Licenciada en Biología (1998) y Bioquímica (1999) por la Universidad de Navarra.

Doctor en Biología Celular y Molecular por la Universidad Navarra (2004).

Estancia postdoctoral en el Departamento de Biología Vascular del Institute of Ophthalmology (University College London) durante 14 meses (2013-2014).

Participación como colaborador en 12 proyectos de investigación de financiación pública y 13 ensayos clínicos.

Revisora de las revistas científicas Nano Research, Bio Med Res, Molecular Vision, Experimental Eye Research, Investigative Ophthalmology and Visual Sciences, Current Eye Research.
Participación en ensayos clínicos sobre terapias para patologías retinianas, principalmente Degeneración Macular Asociada a la Edad (DMAE), Retinopatía Diabética (RD) y oclusión venosa.
Búsqueda de nuevas estrategias diagnósticas basadas en imagen y tratamientos personalizados a través de modelos experimentales in vitro e in vivo.
ACTIVITY
As an educator
Profesor Contratado Doctor en el Departamento de Oftalmología de la Facultad de Medicina.
Ha dirigido y codirigido 5 tesis doctorales y formado parte del Tribunal evaluador de 4 tesis doctorales en la Universidad de Navarra.
As a researcher
Autor de 36 artículos publicados en revistas indexadas, 21 de ellas en el primer cuartil (11 en el primer decil) y 2 capítulos de libro.
Asistencia a más de 100 congresos científicos nacionales e internacionales con comunicaciones orales y en panel.
Receptora de un contrato postdoctoral de excelencia para movilidad de investigadores Marie Curie Intra European Fellowships for Career Development.
Vocal del Comité de Ética para la Experimentación Animal (CEEA) de la Universidad de Navarra desde 2012.
Miembro de La Sociedad Española de Retina y Vítreo, Association for Research in Vision and Ophthalmology (ARVO), European Vision and Eye Research (EVER) y European Society for Gene and Cell Therapy (ESGCT).
Miembro colaborador de la Red Oftared sobre enfermedades oculares: prevención, detección precoz, tratamiento y rehabilitación de las patologías oculares.
Miembro de la Red de Excelencia Complemento y Enfermedad para el diagnóstico molecular de enfermedades relacionadas con el sistema del complemento.
Accésit Premio MSD de Oftalmología 2005.
Premio a la mejor presentación científica. European Association for Vision and Eye Research (EVER). "Use of antibiotic-resistance-free plasmids for non-viral transfection of pigment epithelium-derived factor in rat primary cells. Niza, Francia, Septiembre 2014.
Premio mejor comunicación oral. Sociedad Española de Retina y Vítreo (SERV). Santander 2018. "Asociación de los polimorfismos CFH, CFB, ARMS2, SERPINF-1, VEGFR1 y VEGF en la respuesta anatómica y funcional al tratamiento con ranibizumab en pacientes con DMAE".
you may

BE INTERESTED

La Clínica es el hospital privado con la mayor dotación tecnológica de España, todo en un único centro.

Conozca las historias de nuestros pacientes. Historias de lucha, esperanza y superación, son historias de la Clínica.

Por qué somos diferentes a otros centros sanitarios. Calidad, rapidez, comodidad y resultados.