Home >
Radiation Oncology
Radiation Oncology
department
The Radiation Oncology Department at the Clínica Universidad de Navarra has extensive experience in administering modulated intensity external radiotherapy. We also use a wide variety of the latest medical-surgical techniques which are only available in very few Spanish centres.
The Clínica is an international reference centre for intraoperative implants and postoperative radiation treatments with high dose rate brachytherapy. We are one of the most experienced centres in the world for intraoperative brachytherapy treatment for head and neck tumours, soft structure sarcomas and gynaecological tumours.
We use stereotactic radiotherapy, which allows us to administer a number of very precise treatment sessions for oncological conditions.
We have a highly specialised nursing team who offer comprehensive patient care, focussing on working alongside other departments, controlling the disease and follow-up treatment for the symptoms and secondary effects associated with these conditions.
Furthermore, we carry out a lot of research work. Our Radiation Oncology Department has the larger number of publications in Spain.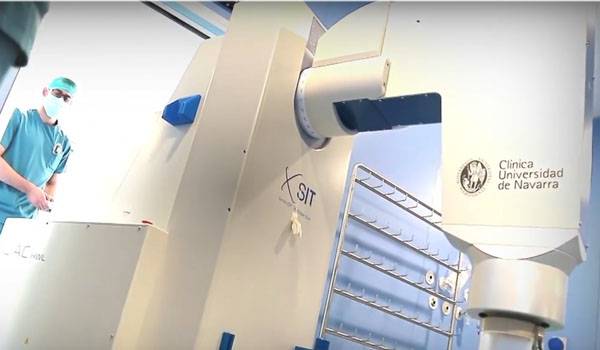 An exclusive procedure of early partial radiation for patients with breast cancer. [Video only available in Spanish]
The Clínica Universidad de Navarra uses the latest range of medical-surgical techniques in Radiation Oncology, which are currently only available in a few Spanish hospitals.".
We use the latest available medical-surgical techniques, which are only available in very few centres.
The technology available in the department, among others, is the following:
Linear Accelerators (4): Elekta Versa HD (1), Siemens Mevatron Primus (2), Siemens Oncor (1)
Multi-leaf collimator system (2) and Micromultileaf (1)
Planning using CT/dedicated CT/fusion CT/MRI/PET scans
High dose rate brachytherapy with Gammamed/Varian systems
Very low dose rate brachytherapy with Semillas Oncura 125I
CT scan room which can be converted into an operating theatre to carry out immediate, post implant CT scans
Personalised planning for External Radiotherapy (ADAC), Modulated Intensity (ADAC/Konrad), Radiosurgery (Brainlab)
High dose rate brachytherapy (Varian)
Very low dose rate brachytherapy (Theratronics/Nucletron)
With external radiotherapy, there is a systematic way of treating the majority of tumours, using stereotactic and modulated intensity techniques.
Additionally, there is the brachytherapy programme (internal radiotherapy), led by Dr. Martínez Monge, the head of the Radiation Oncology Department.
We mainly use this technique on sarcomas, genitourinary and gynaecological tumours.
you may

be interested

Learn why the Clínica Universidad de Navarra is different from other hospitals.

Want to participate in our clinical trials? Learn which ones are active.

Know what we do for our international patients