Home >
Dra. Nerea Fernández Ros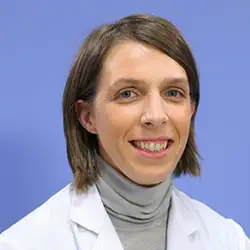 meet

Dr. Nerea Fernández Ros

Especialista en Medicina Interna.
Dedicación preferencial al hospitalistmo y manejo perioperatorio de paciente pluripatológico.
formación

Y TRAYECTORIA

Es licenciada en Medicina (2007) y doctora (2014) por la Universidad de Navarra, y especialista en Medicina Interna por la Clínica Universidad de Navarra (2013).

Ha realizado una estancia posdoctoral en Miami (EEUU) (2015-2016).
Manejo perioperatorio de pacientes pluripatológicos.
Simulación en sepsis y procedimientos guiados por ecografía.
ACTIVIDAD
As an educator
Profesora asociada. Facultad Medicina. Universidad de Navarra.
As a researcher
Ha presentado 13 comunicaciones a congresos nacionales e internacionales.
Es autora de 11 capítulos de libro y artículos en revistas indexadas.
Miembro asociado de la Sociedad Española de Medicina Interna.
Miembro asociado de la SHM (Society of Hospital Medicine).
tal vez

le interese

The Clínica is the spanish private hospital with the greatest technological equipment in one single center.

If you live outside of Spain and you wish to receive care at the Clínica, learn about our services for international patients.

Why we are different from other healthcare centers.
Quality, speed, comfort and results.