Home >
Dra. Lidia Sancho Rodríguez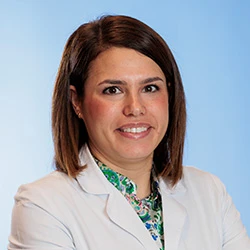 meet

Dr. Lidia Sancho Rodríguez

Especialista en Medicina Nuclear.
formación

y trayectoria

Es licenciada en Medicina por la Universidad Autónoma de Madrid (2011) y especialista en Medicina Nuclear por la Clínica Universidad de Navarra (2016).

Ha realizado una estancia de investigación en el Nuclear Medicine & PET Department del Singapore General Hospital.
PET/CT en oncología y neurología.
Radioembolización hepática.
Cirugía radioguiada.
Medicina Nuclear convencional.
Densitometría ósea.
actividad
As an educator
Profesor de prácticas de la asignatura de Medicina Nuclear. Facultad de Medicina, Universidad de Navarra.
Miembro de la Sociedad Española de Medicina Nuclear e Imagen Molecular.
Miembro de WARMTH (World Association of Radiopharmaceutical and Molecular Therapy).
Beca a la excelencia de la Fundación Bancaria Caja Navarra (2015).
Beca para la Formación Continuada en Ciencias de la Salud del Gobierno de Navarra (2015).
tal vez

le interese

The Clínica is the spanish private hospital with the greatest technological equipment in one single center.

If you live outside of Spain and you wish to receive care at the Clínica, learn about our services for international patients.

Why we are different from other healthcare centers.
Quality, speed, comfort and results.