Home >
Dra. Irene Palacios Álvarez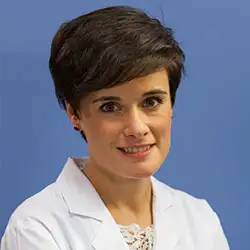 meet

Dr. Irene Palacios Álvarez

Especialista en Dermatología.
formación

Y TRAYECTORIA

Es licenciada en Medicina por la Universidad de Navarra (2009) y especialista en Dermatología (2014).

Doctor en Medicina por la Universidad de Salamanca (2016).
Estudio y tratamiento del cáncer cutáneo, con especial interés en cáncer cutáneo no melanoma.
Diagnóstico precoz de melanoma.
Genodermatosis.
ACTIVIDAD
As an educator
Profesor de las asignaturas Preclinic y Dermatología. Facultad de Medicina. Universidad de Navarra.
As a researcher
Ha participado con 40 comunicaciones a diferentes congresos nacionales e internacionales.
Ha colaborado en la redacción de 7 libros.
Ha publicado artículos en diversas revistas nacionales e internacionales.
Miembro de la Academia Española de Dermatología (AEDV).
Miembro de la International Dermoscopy Society.
Miembro del Instituto de Investigación Biomédica de Salamanca IBSAL (2013 y 2014).
Primer premio al mejor póster oncológico en el 44 congreso nacional de Dermatología y Venereología de la AEDV por el póster: Análisis del genoma del carcinoma basocelular esporádico mediante hibridación genómica comparada: alteraciones más allá de PTCH1.
Primer premio Pierre Fabre de Dermatología sobre ictiosis concedido por la AEDV por el trabajo: Caracterización clínica y molecular de 15 pacientes con ictiosis congénita autosómica recesiva.
Premio a la mejor comunicación científica de la LXVIII Reunión de la Sección Astur- Cántabro-Castellano- Leonesa de la AEDV por la comunicación: Seis casos de enfermedad injerto contra huésped en población infantil.
Beca de la Fundación Rodríguez Pascual (2014-2015).
tal vez

le interese

The Clínica is the spanish private hospital with the greatest technological equipment in one single center.

If you live outside of Spain and you wish to receive care at the Clínica, learn about our services for international patients.

Why we are different from other healthcare centers.
Quality, speed, comfort and results.